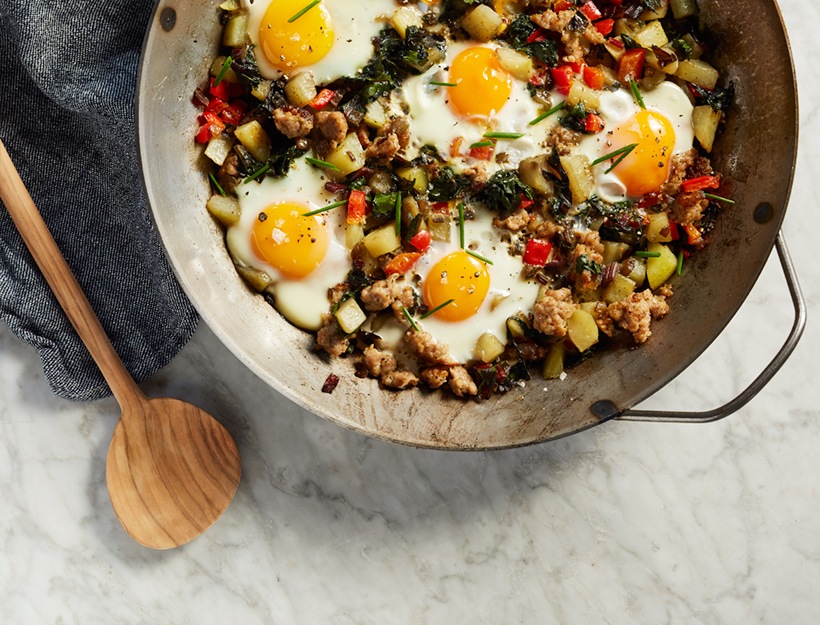 Hash is the ultimate cleaning-out-the-fridge meal because somehow, no matter what you throw in, it always tastes great. We like this one with sausage, peppers, onion, and Swiss chard, but as long as you've got potato and eggs, you've got the makings of a great hash.
1. Place the diced potato in a saucepan of salted water and bring up to a boil. Cook for 30 seconds, then drain and set aside to cool.
2. Heat a large skillet or low-sided Dutch oven over medium-high heat. Add 1 tablespoon of oil and the sausage and cook until nicely browned and cooked through, about 5 minutes; remove to a plate.
3. Add 2 tablespoons of oil to the pan, then add the diced onion, peppers, and a pinch of salt. Sauté the veggies over medium heat for 5 minutes, or until browned and tender. Add the chard and another pinch of salt and cook until the chard has wilted. Add the veggies to the plate with the sausage.
4. Add 2 more tablespoons of oil to the pan, then add the parcooked potatoes. Cook over medium-high heat for 2 minutes, or until starting to brown nicely, then shake the pan, trying to flip each piece of potato and cook another 2 minutes. Season with salt and pepper.
5. Add sausage and veg back into the pan, mix everything together, and cook 1 more minute.
6. Crack 6 eggs into the pan, season each egg with a little salt and pepper, turn the heat to medium-low and cook, covered, for 5 minutes. Turn off the heat and let it sit, still covered, for 1 minute before serving.
Originally featured in Hot Breakfasts to Please a Crowd