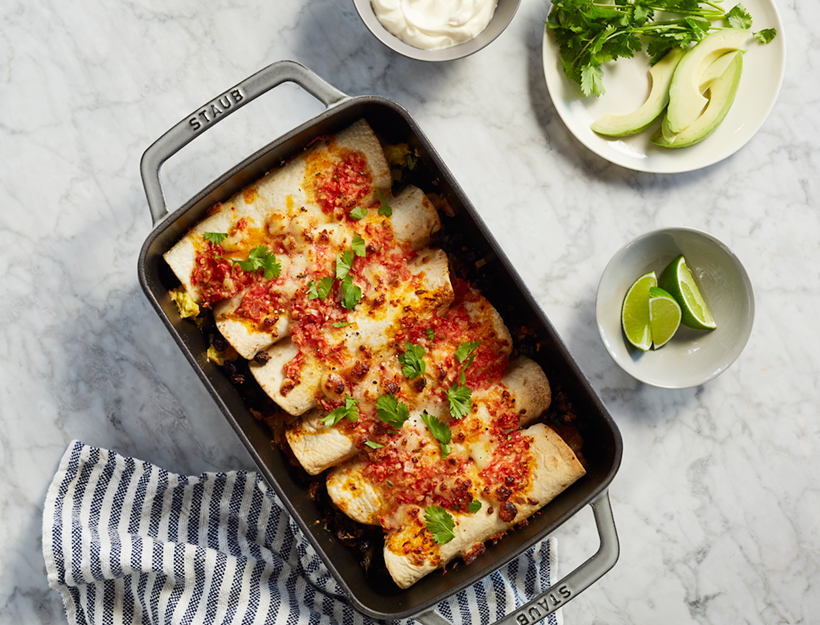 We love breakfast burritos, but if you're cooking for a crowd, the last-minute assembly and rolling can be cumbersome. This burrito-enchilada hybrid has all the components of a solid breakfast burrito, but in an easy make-ahead casserole form. If you have time to make salsa or enchilada sauce, go for it; if not, use your favorite store-bought version.
1. Preheat the oven to 375°F.
2. Heat a large nonstick skillet over medium heat. Crack the eggs into a large bowl, beat, and season with the salt and pepper. Add the oil or butter and swirl around in the pan. Add the eggs and cook until just scrambled but still a little wet.
3. Transfer the eggs to a large bowl. Add the white onion, black beans, cilantro, and ⅓ cup of the queso fresco. Stir to combine and taste for seasoning.
4. Grease the baking dish with oil or butter, then spread over half the salsa. Divide the egg mixture among the 6 tortillas, rolling them up as you go and lining up in the baking dish seam side down.
5. Top the tortillas with the remaining ½ cup of salsa and scatter over the remaining ¼ cup of queso fresco.
6. Bake in the oven for 15 minutes, then broil until the cheese begins to brown.
7. Serve with sliced avocado, extra cilantro, lime, and sour cream on the side.
Originally featured in Hot Breakfasts to Please a Crowd (Enchiladas, Included)