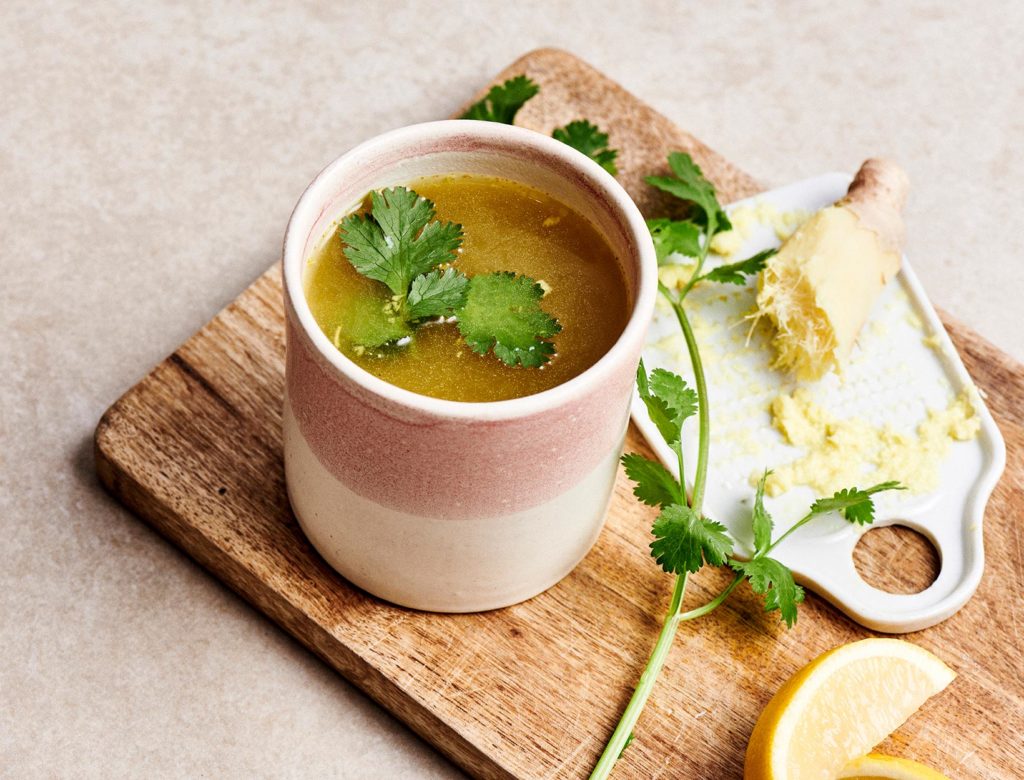 Breakfast Broth
Starting the day with bone broth can feel so comforting, and making a base broth early in the week takes most of the work out of it. Before serving, all you have to do is fortify the broth with some incredibly flavorful mix-ins, like miso and turmeric, making it that much more satisfying. It may be called breakfast broth, but it's also great to sip in the afternoons, so feel free to work it into your snack routine during your detox.
For the bone broth:
1 leftover chicken carcass
1 onion, cut in half
1 head garlic, cut in half
1 4-inch piece of ginger, split lengthwise
1 tablespoon peppercorns
1 4-inch piece of kombu
1 tablespoon apple cider vinegar
2 quarts water (or just enough to cover everything in the pot)
For the breakfast broth:
1 teaspoon chickpea miso
⅛ teaspoon fresh grated ginger
scant ⅛ teaspoon turmeric
pinch of black pepper
1 cup bone broth
½ cup hot water
To garnish:
lemon wedges
thinly sliced scallions
cilantro leaves
1. To make the bone broth: Combine all ingredients in a stockpot and cover with water. Bring to a boil, then reduce to a simmer. Let simmer until it reduces by half, about 2 to 3 hours. Let cool and strain. Store in the fridge.
2. To make the breakfast broth: Bring the bone broth to a simmer in a saucepan. In a small bowl, whisk together the miso, ginger, turmeric, and black pepper. Slowly add in the warm broth and hot water and whisk until fully diluted. Finish with a squeeze of lemon and add scallions and cilantro if desired.
Learn more about bone broth benefits.
Originally featured in The Annual 5-Day Detox