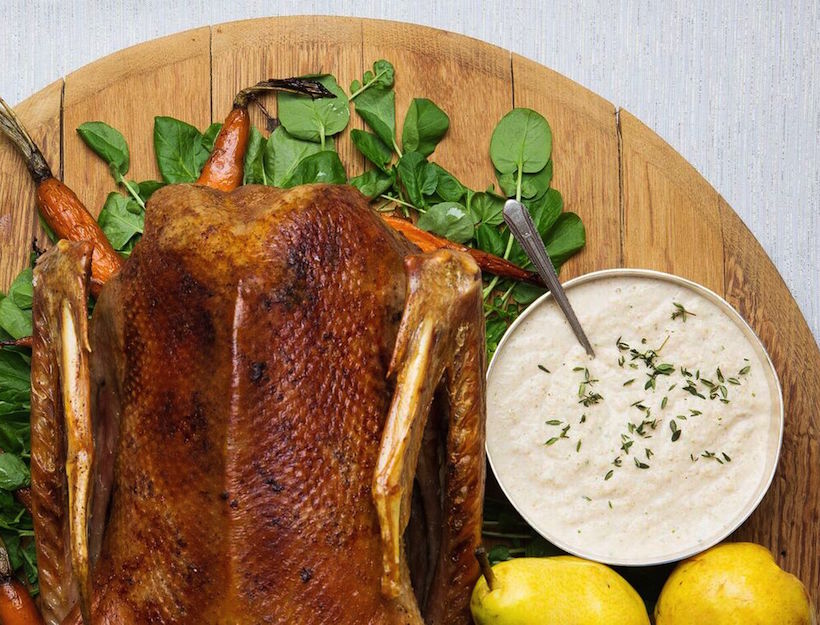 "The sole survivor of the medieval bread-thickened sauces, bread sauce is a quirky, old-fashioned, deeply-English accompaniment to roast game. Its comforting and creamy quality makes it almost compulsory for the traditional feel of this roast. Dollop it onto your plate of sliced goose and pour over the gravy. Yum."
1. Cut the onion in half and stick the cloves in it (if you don't like cloves, you can use some freshly grated nutmeg instead).
2. Place the clove-studded onion, the bay leaf, peppercorns, and thyme in a saucepan with the whole milk. Add some salt, then bring everything to a boiling point. Remove from the heat, cover the pan, and leave in a warm place to infuse for at least two hours.
3. When you're ready to make the sauce, remove the onion, bay leaf, peppercorns, and thyme and keep them to one side. Stir the breadcrumbs into the milk and add two tablespoons of the butter. Leave the saucepan on very low heat, stirring now and then, until the crumbs have swollen and thickened the sauce (about 15 minutes). Now replace the clove-studded onion, the bay leaf and the thyme and again leave the pan in a warm place until the sauce is needed.
4. Just before serving, remove the aromatics again, reheat the mixture gently, then beat in the remaining butter and the cream (the consistency should resemble a loose porridge). Taste for seasoning and serve.
Originally featured in The Ultimate Holiday Dinner Party Menu (and How to Pull it Off)