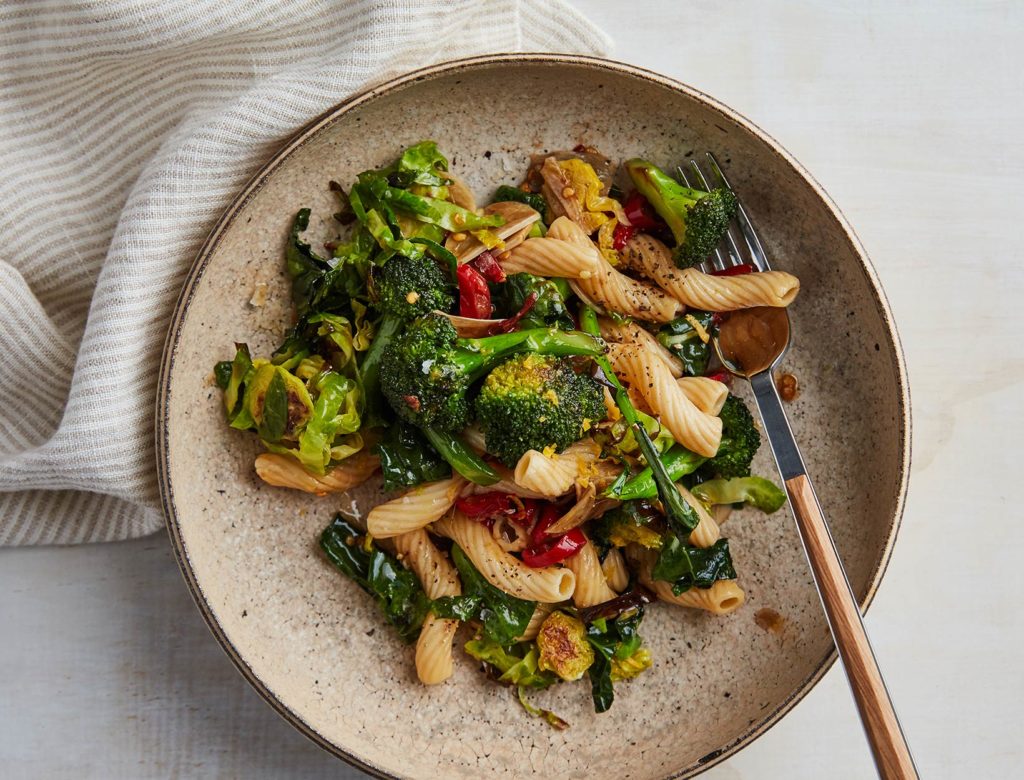 Big Brassica-Energy Pasta
From our food editor Caitlin O'Malley: "I make a version of this pasta a few times a month. My simple formula is some kind of brassica + garlic + anchovies + chilies + lemon + pasta. For the brassica, I use broccoli, kale, cabbage, or cauliflower. For this version, I went all out, with three members of the brassica family. They all add a uniquely assertive savory flavor."
1. Bring a pot of water to a boil and cook the pasta according to the package directions.
2. Heat a few tablespoons of the olive oil in a wide, shallow skillet over medium-high heat. Toss the broccoli in the olive oil and cook until slightly tender and browned, 6 to 8 minutes. Add a pinch of salt and remove the broccoli from the skillet with a slotted spoon and set aside. Add a little more olive oil to the pan and turn the heat up to high. Once the oil is shimmering, add the Brussels sprouts in an even layer. Cook for a couple of minutes without stirring, allowing them to brown. Then give the Brussels sprouts a quick toss and let cook again for another few minutes to brown some more. After about 6 minutes total, the Brussels sprouts should be nicely browned in some spots and tender in others. Remove from the pan and set aside with the broccoli.
3. Reduce the heat to medium and add a few tablespoons of olive oil to the pan. Add the garlic, anchovies, and Calabrian chilies. Cook, stirring a few times. The garlic should not brown, but the anchovies should melt. After about 3 minutes, add the kale and the reserved broccoli and Brussels sprouts and toss. Then add the cooked pasta, a little more olive oil, and the lemon zest, tossing vigorously to make sure everything is evenly seasoned and well combined. Taste for seasoning and add salt as needed.
Originally featured in Veggie-Packed Pasta Dinners