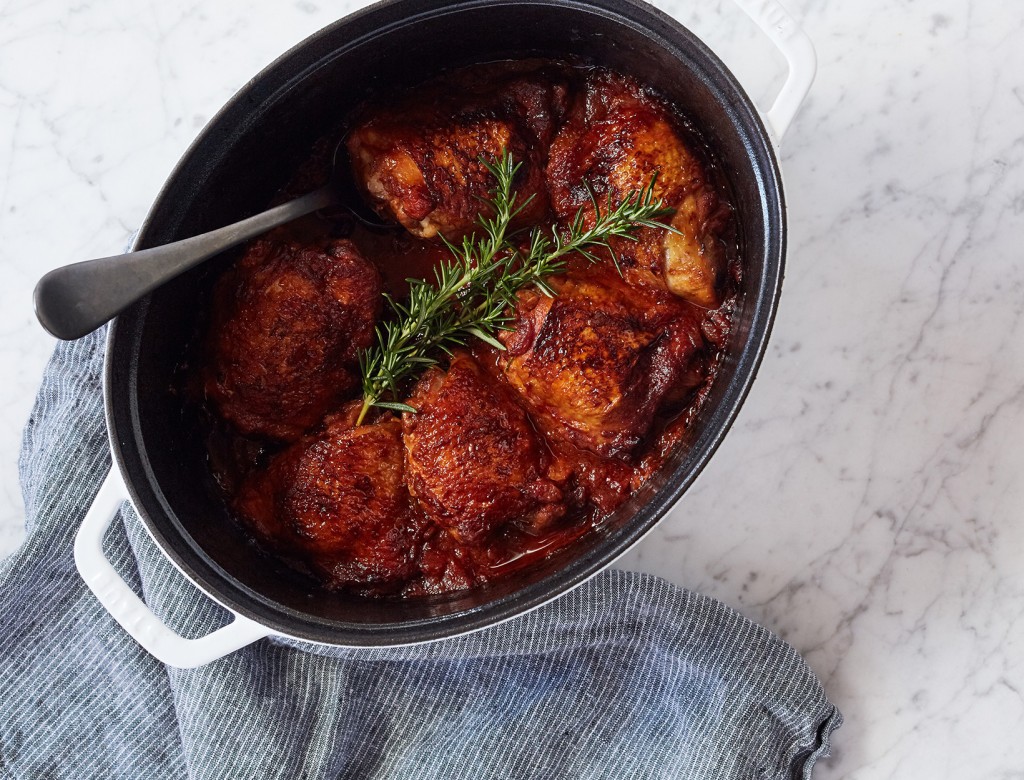 Braised Italian Chicken Thighs
This easy one-pot chicken dish requires very little prep and ingredients you likely already have in your pantry. It also happens to be both family-friendly and dinner-party-worthy delicious. Serve with a green salad and crusty bread to scoop up the lovely sauce.
1. Preheat the oven to 325°F.
2. Season the chicken thighs with salt.
3. Heat the olive oil in a Dutch oven over medium-high heat.
4. Sear the chicken thighs, skin side down, turning after about 4 minutes. Cook for another few minutes until evenly browned on both sides (you don't have to worry about cooking them through at this point). Once browned, remove the chicken from the pan and set aside.
5. Reduce the heat to medium and sauté the onion and garlic in the rendered chicken fat. Once the onion is caramelized, add the tomato paste, rosemary, and red wine. Stir to combine and let simmer for a few minutes (just enough to cook off some of the alcohol).
6. Add the crushed tomatoes and chicken stock and return the browned chicken thighs. Cover the Dutch oven with its lid and place in the oven. Cook for 2 hours.
7. After 2 hours, remove the pot from the oven. Place it on a burner, and remove the chicken to a plate.
8. Over low heat, add the balsamic vinegar to the tomato sauce and cook for a few minutes to reduce.
9. Top the chicken with the reduced sauce or return the chicken to the pot to serve.