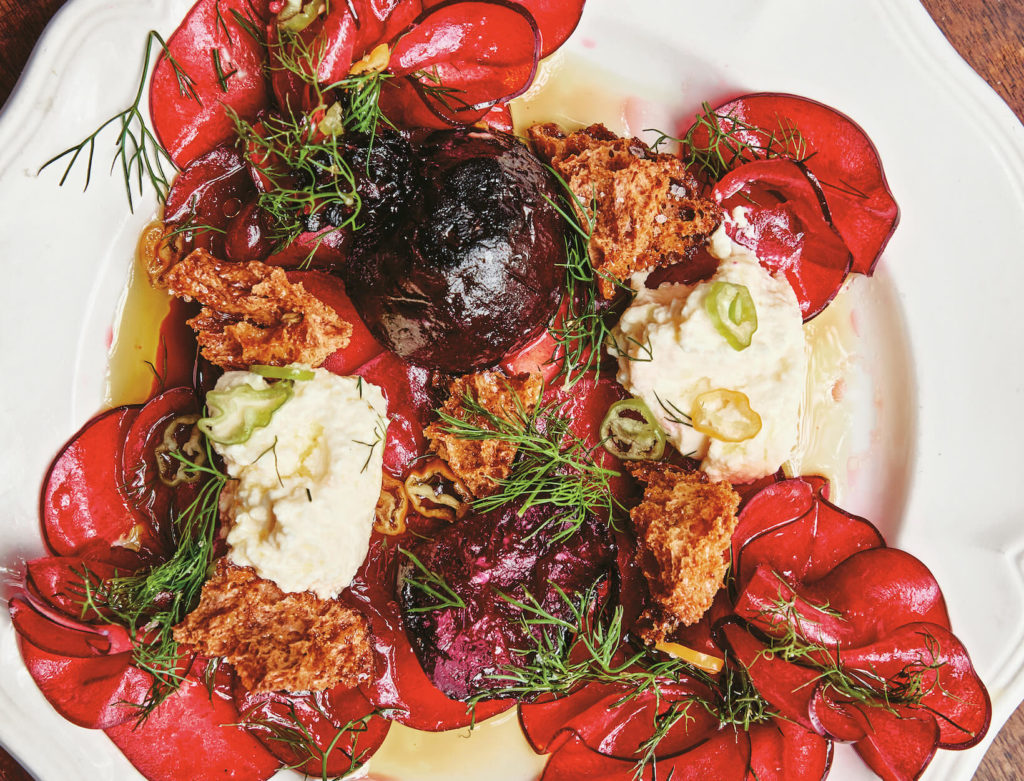 Braised Beet and Plum Salad
"The combination of the warm crisped beets, raw sliced plums, and the unexpected punch of the chiles is what makes this salad so memorable. I see the plums as angels and the beets as little devils; prayers on the one hand, lust on the other. The gentle creaminess of the ricotta keeps this contrast under control." —Mallmann
1. Heat the horno (outdoor oven), or a home oven, to 375°F.
2. Place the beets in a small lidded pot or a baking dish deeper than the height of the beets. Pour in the broth to come about two-thirds up the sides of the beets. Add the garlic, half the dill, the vinegar, and olive oil and salt to taste. Put the lid on the pot or cover the dish tightly with foil and cook for about 1 hour, depending on the size of the beets, until they are tender all the way through when pierced with a skewer.
3. When the beets are cool enough to handle, cut them in half and brush generously with olive oil. Meanwhile, with a sharp knife, slice the plums as thinly as you can, cutting around the pit. Tear the remaining dill into pieces, discarding any tough stems, and set aside.
4. Prepare a fire for high heat and warm the plancha. If cooking indoors, heat a large cast-iron griddle over high heat.
5. Brush the hot plancha or griddle with olive oil. When the oil shimmers, add the beets cut side down. Cook until crisped on the bottom, about 2 minutes. Transfer to a wide platter.
6. Arrange the plums around the beets on the platter. Add dollops of ricotta, the sliced chiles, the breadcrumbs, and the remaining dill.
Excerpted from Green Fire by Francis Mallmann (Artisan Books). Copyright © 2022.
Originally featured in Plant-Forward Grilling Recipes from Francis Mallmann's Green Fire