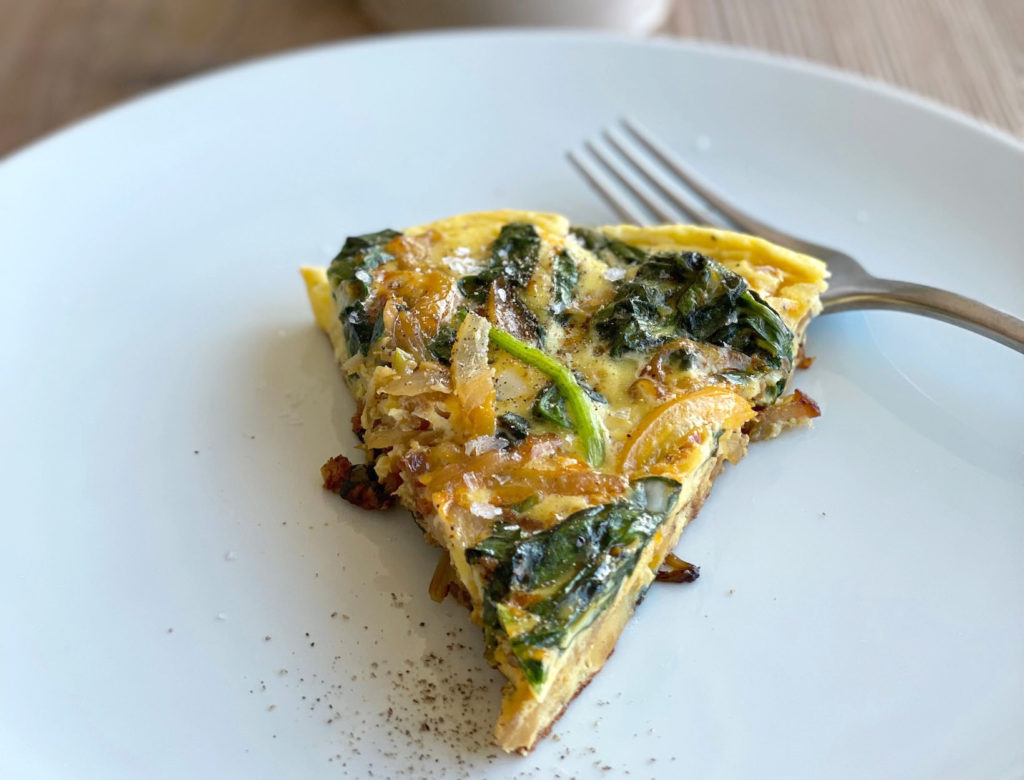 Spinach, Potato, Bacon, and Caramelized Onion Frittata
As long as you have some yummy caramelized alliums, some greens, and some eggs, you can make a frittata. If you have any other fun mix-ins, like bacon, sausage, smoked salmon, veggies, or cheese (if you're not paleo), even better.
2 tablespoons ghee
1 small yellow onion, thinly sliced
1 large russet potato, cut into bite-size pieces
6 strips turkey bacon
8 ounces spinach
6 eggs, beaten
flaky sea salt
fresh-cracked black pepper
1. Heat a nonstick skillet over medium-low heat and melt the ghee. Then add the onion and let it cook low and slow until it caramelizes, about 35 minutes.
2. While the onions caramelize, bring a pot of water to a boil. Add a big pinch of salt along with the potatoes and boil until fork-tender. Then drain and set aside.
3. In another skillet, fry the turkey bacon until crispy, then set aside. Once cool enough to handle, chop it up into bite-size pieces.
4. Preheat the oven to 375°F.
5. Add the potatoes, turkey bacon, and spinach to the onion mixture. Mix well and let the spinach gently wilt. Add the beaten eggs and let it cook for a couple minutes, then bake in the oven for about 10 to 12 minutes. Slide out of the pan, slice, and serve.
Originally featured in Is it Antifeminist to Cook for Your Boyfriend?