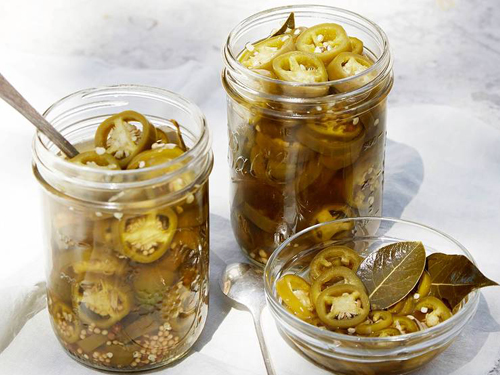 Bourbon-Pickled Jalapeños
This recipe was originally featured in chef Edward Lee's cookbook Smoke & Pickles. We tried it out for our cookbook club.
1. Wearing disposable gloves, slice the jalapeño peppers into ¼-inch-thick rounds. Transfer to a jar.
2. Combine the vinegar, bourbon, honey, coriander seeds, salt, mustard seeds, and bay leaves in a small saucepan and bring to a boil, then simmer for 5 minutes.
3. Pour the hot liquid over the peppers, seal the jar with a tight-fitting lid, let cool to room temperature, and refrigerate. The peppers will be ready in 3 days, and they will keep for up to 2 weeks.
Originally featured in The goop Cookbook Club: Smoke & Pickles