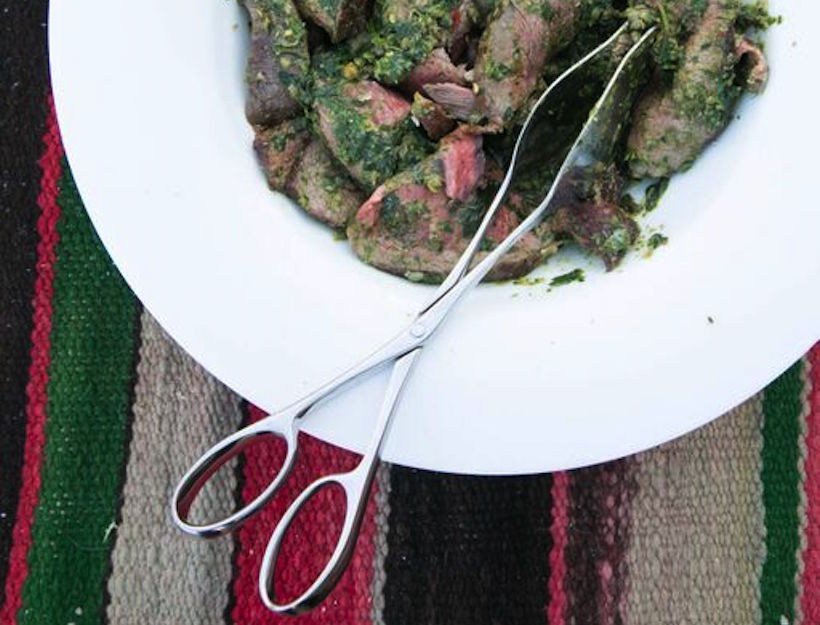 Boneless Leg of Lamb with Garlic, Rosemary, and Salsa Verde
When it comes to grilling lamb, most people naturally gravitate toward chops—though they can be on the pricey side. Anya showed us that a whole boneless butterflied leg of lamb (lamb shoulder also works well) is killer on the grill. She serves it with an Italian-style salsa verde that's so good, we'd eat it with a spoon.
for the lamb:
1 leg of lamb, deboned and butterflied
6 garlic cloves, crushed
2 tablespoons roughly chopped thyme leaves
salt
pepper
for the salsa verde:
2 eggs
1 bunch Italian parsley, large stems removed
1 small bunch fresh basil, large stems removed
¾ cup extra-virgin olive oil
½ cup capers
2 teaspoons red wine vinegar
1 teaspoon red pepper flakes
½ teaspoon kosher salt
1. To make the salsa verde, place the eggs in a small saucepan and cover with cold water. Bring to a boil, cover, remove from the heat, and let stand for 9 minutes. Transfer to an ice-water bath and, when cool enough to handle, peel. Cut the eggs in half and remove the yolks (the whites can be discarded or eaten as a cook's snack).
2. In a food processor, combine the egg yolks, parsley, basil, olive oil, capers, vinegar, red pepper flakes, and salt. Process until smooth.
3. Let stand at room temperature for at least 1 hour before serving. The sauce will keep, refrigerated, for up to 2 days; let it come to room temperature before serving.
4. Meanwhile, remove the lamb from the fridge; toss with a good glug of olive oil, crushed garlic cloves, and thyme leaves; and season generously with salt and pepper. Let sit at room temperature for at least 1 hour.
5. Light the charcoal (we highly recommend a chimney) 20 to 30 minutes before you want to start cooking. When all the coals are glowing and have an ashy exterior, dump them on one side of the grill for indirect cooking.
6. Place lamb on the hot side of the grill and cook for 5 minutes, then flip and cook for another 5 minutes. Move to the cooler part of the grill and cook for 15 to 20 more minutes, or until thermometer reads 125°F for medium-rare (the temperature will rise to 135°F as it rests).
7. Remove, let rest for at least 10 minutes, slice, and serve with the salsa verde.