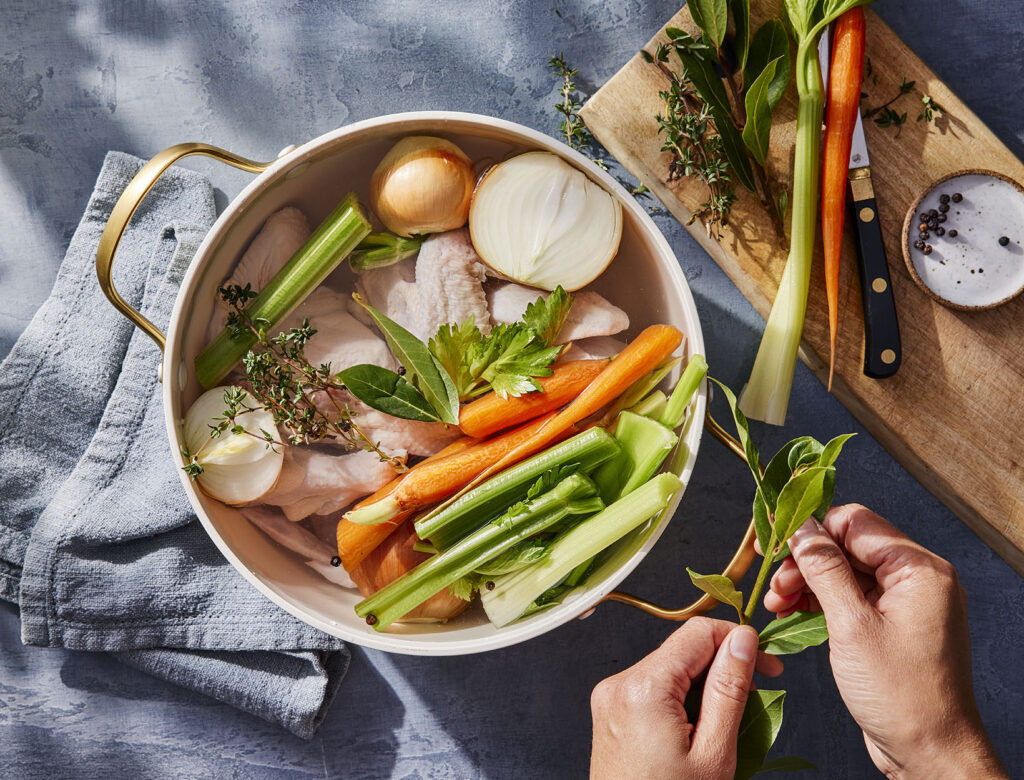 Bone Broth
You can sip this bone broth on its own or use it for any soup that calls for chicken stock. It takes a while to make, so be sure to get started early. Allowing the bone broth to chill for a day in the refrigerator will help the excess fat coagulate, making it easier to remove so that you have a clear broth. (If you're within goop Kitchen's delivery radius, you can order bone broth to make it easier on yourself.)
3 pounds chicken bones, backs, and necks
1 pound chicken wings
1 gallon cold filtered water
3 yellow onions, cut in half
5 stalks celery, washed and trimmed
3 carrots, washed and peeled
1 tablespoon whole black peppercorns
2 sprigs thyme (optional)
2 bay leaves (optional)
1. In a large colander, wash the chicken bones and wings well and allow to drain.
2. Add all the ingredients to a stockpot large enough to fit them (you want them to fit easily, with some room at the top so the pot doesn't boil over).
3. Bring to a boil, then reduce to a simmer. Skim off any scum that floats to the top.
4. Allow to simmer for 10 to 12 hours or, better yet, on low overnight (assuming you can do so safely).
5. The next day, strain the broth well and allow it to cool at room temperature. It will keep in the refrigerator for 5 days, or you can freeze it.
Originally featured in The Annual New Year Detox: 2023 Edition