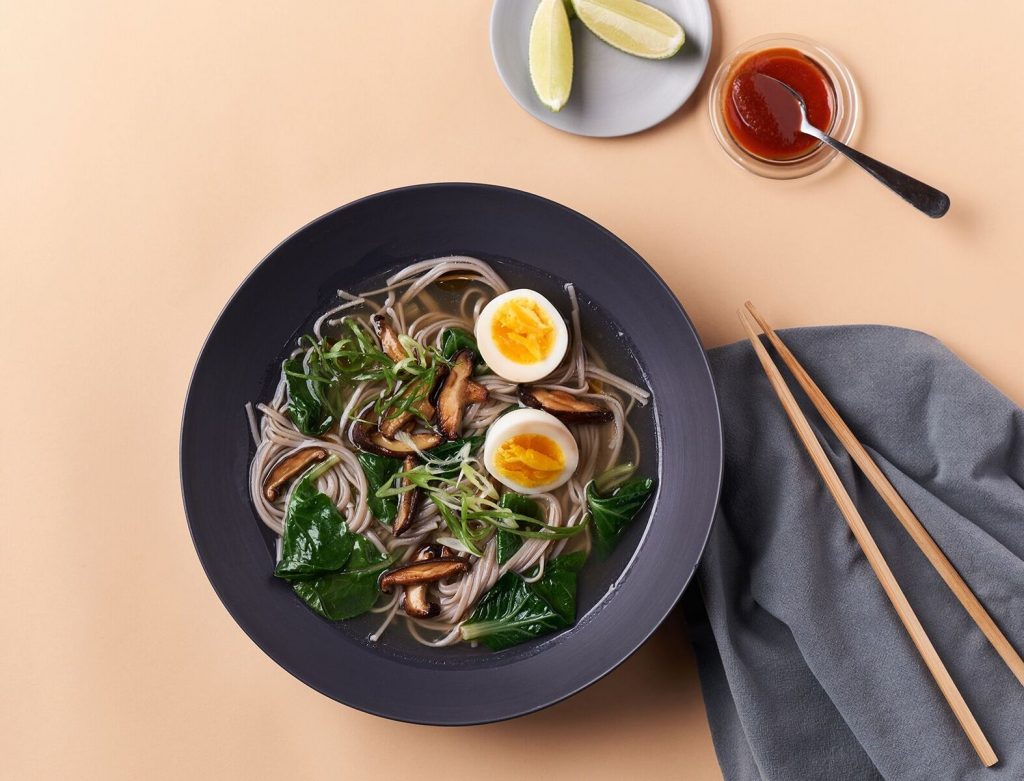 Bone Broth Ramen
"This soup is all about that broth—bone broth, that is. Collagen-rich bone broth is a key gut healer, as it helps to essentially coat the gut lining and prevent and heal leaky gut (which is incredibly common, and can cause systemic inflammation). The rest of this soup is umami-rich and ultra-immune-boosting, with spicy garlic and ginger, some leafy greens for fiber and Vitamin K, and a protein-packed egg to round out the meal."
4 cups pastured chicken bone broth (from freezer or refrigerator section, not Tetra-Pak)
2 bundles soba noodles (if gluten-free, make sure they're 100 percent buckwheat)
2 cups tatsoi leaves
4 cloves garlic, minced
1 tablespoon ginger, peeled and grated
1 cup sliced shiitake mushrooms
4 green onions, green and white parts chopped
toasted sesame oil, for garnish
Sriracha, for garnish
1 lime, quartered
sea salt
1. Boil a few cups of water and add soba noodles. Cook according to package instructions, then drain and rinse well. Set aside.
2. In a large pot, bring bone broth to boil over medium-high heat. Reduce heat to simmer and add in garlic, ginger, shiitake mushrooms, and tatsoi leaves. Cover and let simmer for 3 minutes, or until leaves have wilted and mushrooms are just soft.
3. Remove from heat and taste—bone broths vary wildly in saltiness, so if it needs more salt, add liberally. Pour into four bowls and garnish each with juice from quartered lime, drizzle of sesame oil and Sriracha, an egg, sliced in half, and a scattering of green onions.
Learn more about bone broth benefits.
Originally featured in Three Nourishing Fall Soups (That Are Also Good for Your Gut)