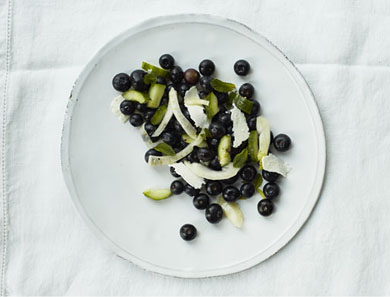 Blueberry Salad
With fennel, mint, cucumber, and ricotta salata, this is refreshing served alongside poultry or seafood. If you omit the cheese, this becomes a great detox or elimination diet dish.
2 cups blueberries
1 small cucumber, chopped
1 stalk fennel, chopped
1 handful of the smallest mint leaves you can find on the stalk
¼ cup ricotta salata, shaved
olive oil
1 lime
sea salt
freshly ground pepper
1. Add the blueberries, cucumber, and fennel to a large mixing bowl. Season with salt and pepper and drizzle with olive oil and as much like juice as you'd like. Toss to mix.
2. Top with mint leaves and ricotta salata.
Originally featured in Superfoods