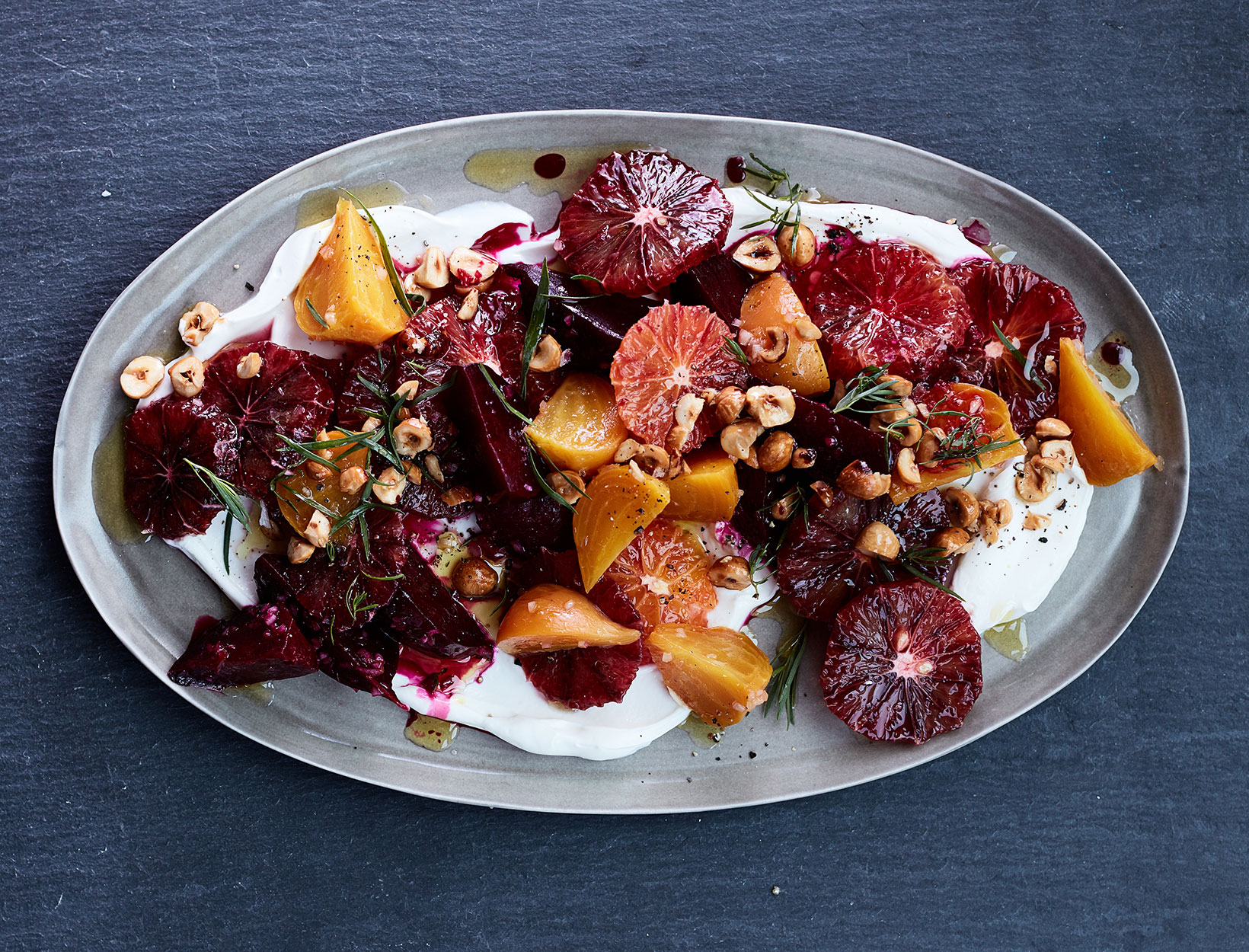 Blood Orange and Roasted Beets with Yogurt, Tarragon, and Hazelnuts
Bright citrus, tangy yogurt, and sweet, earthy beets, make a light yet complex side that complements any main course perfectly.
1. Preheat the oven to 425°F (220°C).
2. Place the red beets in the center of a large piece of foil. Drizzle them with oil and season with salt and pepper. Add a few sprigs of thyme and tightly seal the foil around the beets to make a packet. Repeat with golden beets. Place the packets on a rimmed baking sheet and roast until the beets are tender when pierced with a knife, 45 minutes to 1 hour, depending on the size of your beets. Unwrap the beets and let them cool slightly. Remove the skin by pinching and peeling it off with your fingers or rubbing it with a paper towel.
3. While the beets are roasting, toast the hazelnuts on a rimmed baking sheet for 4 to 6 minutes, or until they're golden and fragrant. Place the toasted nuts on a kitchen towel and rub them against one another to remove the skins (don't worry if all of the skins don't come off). Roughly chop the nuts.
4. Squeeze the juice from half of an orange into a medium bowl. Add the shallot and vinegar. Season with salt and pepper and whisk in the oil.
5. Using a sharp knife, remove the pith and peel from the remaining 1½ blood oranges and slice them crosswise in ¼-inch-thick (6-millimeter-thick) rounds.
6. Cut the beets into wedges and toss them with some of the dressing, making sure to keep the golden and red beets in separate bowls.
7. Just before serving, season the yogurt with salt and pepper. Arrange the orange slices and beet wedges over the yogurt, spooning some of the dressing over the top. Sprinkle with the chopped hazelnuts and a healthy dose of tarragon.
Cook Beautiful by Athena Calderone, published by ABRAMS © 2017. Photographer: Johnny Miller.