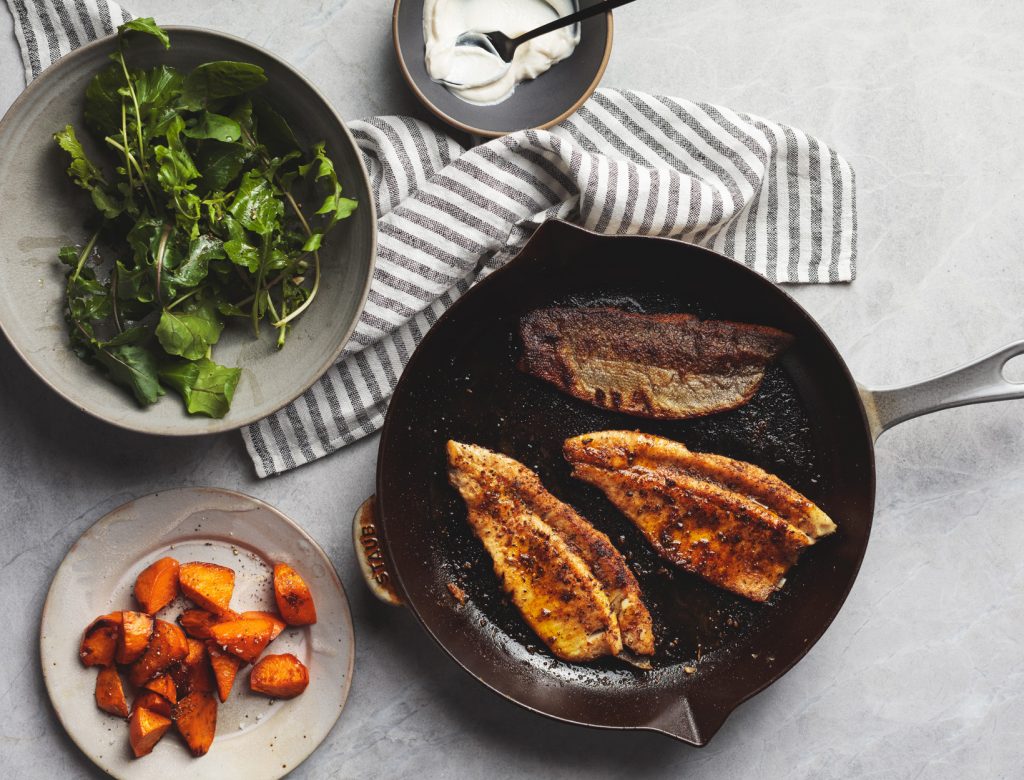 Blackened Trout with Roasted Sweet Potatoes and Arugula Salad
Blackened fish is a favorite at goop HQ, and once we decided to make our own, working around nightshades was easy. The black pepper gives plenty of heat, and the other herbs and spices round everything out. The garlic aioli is a great swap for traditional tartar sauce for all you dippers out there.
1. Preheat the oven to 425°F. Peel and chop the sweet potato into 2-inch cubes and toss with 2 tablespoons of the olive oil and the salt. Spread them evenly on a parchment-lined baking sheet and bake for about 35 minutes.
2. While the potatoes roast, prepare the nightshade-free blackened spice: Combine all the ingredients in a small bowl and mix well.
3. Pat the trout fillets dry with a paper towel. With the skin side down, generously coat the flesh side with a heaping tablespoon of the blackened spice.
4. Heat a nonstick pan over medium-high heat. Add the remainder of the olive oil to the pan, then add the fillets skin side up. Let them cook for about 2 minutes, so they get dark and crispy but not burnt. Flip and cook for another 2 to 3 minutes with the skin side down to get it crisp.
5. Right before serving, toss the arugula with the lemon juice and a glug of olive oil and finish with a sprinkle of salt and a few grinds of pepper.
6. Plate the fish with the salad and roasted sweet potatoes. Serve with lemon wedges and garlic aioli, if desired.
Originally featured in The Annual goop Detox 2019