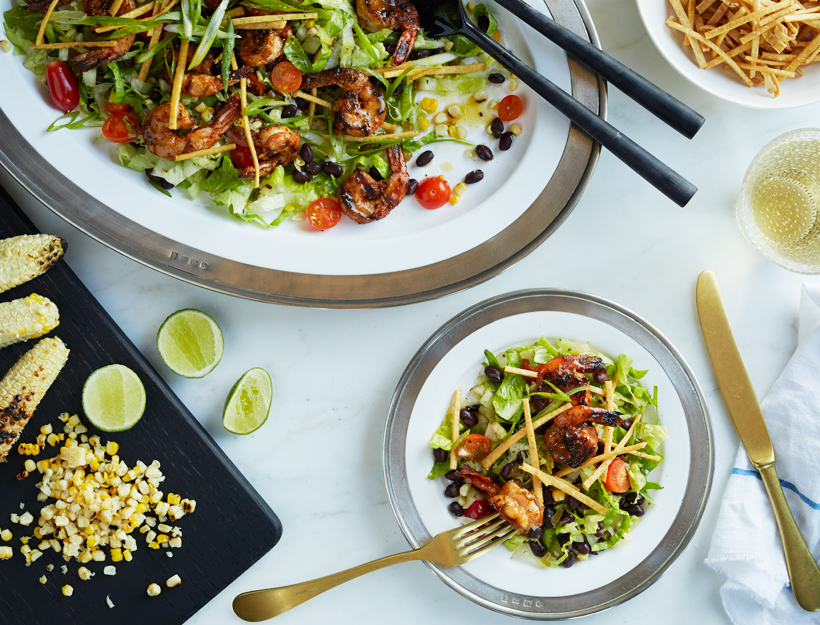 Blackened Mexican Shrimp Salad
We like our shrimp nice and charred, as it really brings out their natural sweetness. This is great as a composed salad at home, but also works really well as a packed chopped salad. If you want to pack it, simply cut up the shrimp into bite size pieces, arrange all the ingredients in a to-go container (trying to keep them separate so they maintain their freshness), and pack the dressing on the side.
2/3 pound medium peeled and deveined shrimp
1 teaspoon paprika
½ teaspoon chili powder
½ teaspoon ancho chili powder
zest of 1 large lime
2 tablespoons olive oil
salt
2 cups shredded romaine
20 cherry tomatoes, cut in half
2/3 cup canned black beans, drained and rinsed
1 small ear of corn, grilled and kernels removed
2 tablespoons chopped pickled jalapeños
1 large scallion, thinly sliced
1 cup crispy corn strips (made from 2 corn tortillas)
for the dressing:
¼ cup lime juice
¼ teaspoon ground cumin
6 tablespoons olive oil
1 teaspoon honey or agave nectar
salt to taste
1. Combine the shrimp, paprika, chili powder, ancho chili powder, lime zest, olive oil, and a large pinch of salt in a medium bowl. Mix well and let marinate for at least 10 minutes and up to overnight in the fridge.
2. Heat a grill pan over medium-high heat. Add the corn and all of the shrimp and grill until the shrimp are cooked through and they both have nice grill marks on all sides. Remove to a plate to cool while you make the dressing.
3. To make the dressing, whisk together the lime juice, cumin, olive oil, and agave nectar and season with salt to taste.
4. To assemble the salad, cut the shrimp into bite-size pieces (if desired) and cut the kernels of corn off the cob. Toss in a bowl with romaine, cherry tomatoes, black beans, pickled jalapeños, and sliced scallion. Toss with half the dressing and season with salt to taste. Divide between two plates or bowls, top with crispy tortilla strips, and serve with extra dressing on the side.
Originally featured in A Week of Salads