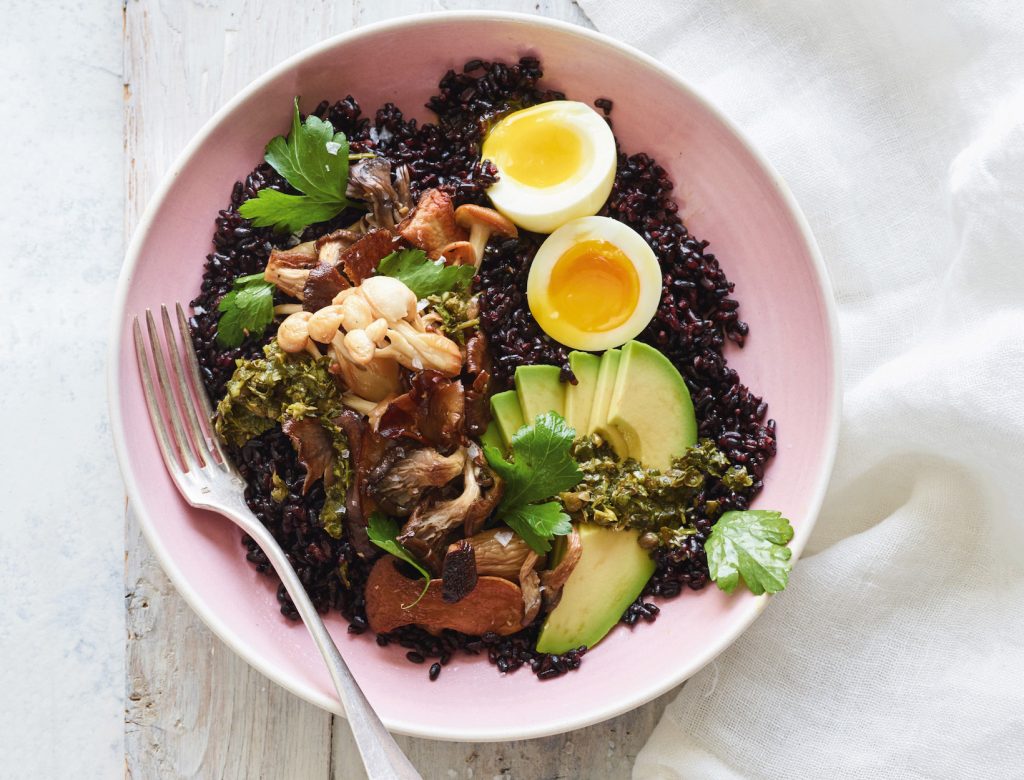 Black Rice and Roasted Mushroom Bowl
Gaby says, "There's a man at the Santa Monica farmers' market who has THE BEST wild mushrooms. Every Wednesday I make a beeline to see what he has and make sure I get dibs, because everyone else is pretty much doing the same thing. I buy a few pounds on the regular, so while they're incredibly delicious simply sautéed, I like to keep things interesting. If I'm feeling jazzy, I'll serve the cooked mushrooms over chewy black rice with herb-loaded salsa verde drizzled over the top along with some slices of avocado and a poached egg. It's a vegetarian dish, but the rich, meaty mushrooms won't leave anyone feeling deprived."
For the salsa verde:
1. In a food processor, combine the parsley, cilantro, basil, garlic, vinegar, and capers and pulse until coarsely chopped, about 30 seconds.
2. Transfer to a small bowl, stir in the oil, and season with salt and pepper. Store in an airtight container in the refrigerator for up to 5 days.
For the garlic wild mushrooms:
1. Heat a large, heavy skillet over medium-high heat until hot. Add 3 tablespoons of the oil, then add the mushrooms and cook, stirring frequently, until golden brown, 12 to 14 minutes. Add the kosher salt and pepper.
2. Add the remaining 1 tablespoon oil, the garlic, and parsley and cook, stirring, until fragrant, about 1 minute. Add the lemon juice and remove from the heat.
3. Add a little Maldon sea salt, taste, and adjust the seasonings as needed. Serve immediately.
For the bowl:
1. Cook the rice according to the package directions, then divide among 6 serving bowls.
2. While the rice is cooking, cook the eggs: Fill a large saucepan with about 4 inches (10 centimeters) of water. Bring the water to a boil, then lower the heat so that the water simmers gently. Lower in the eggs and set the timer for exactly 6 minutes. Remove the eggs and run them under cold water for 15 seconds. Carefully crack each egg and peel off the membrane and shell. When cut open, the whites should be set and the yolks should be soft and runny. Season with salt and pepper.
3. Top the rice bowls with equal amounts of the wild mushrooms, avocado, and salsa verde and a 6-minute egg cut open so the yolk spills out. Serve immediately.
From What's Gaby Cooking by Gaby Dalkin, published by Abrams Books, c 2018
Photos by Matt Armendariz