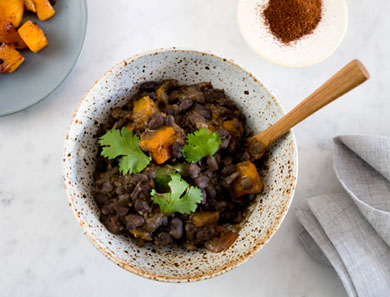 Black Bean + Roasted Butternut Squash Chili
We roast the squash separately for this spiced chili as the rich flavor of the roasted butternut is too good to skip. If time is short and you want to throw the squash in at the start to boil with the dry beans, that's fine too.
1. Pre-heat oven to 400°F. Place squash in a single layer on a baking sheet. Drizzle with olive oil and sprinkle with the ancho chili powder. Season with salt and pepper and place in oven for about 10 minutes. Remove and shake the pan to move the squash around. Return to the oven for about another 10 minutes until squash is soft and beginning to brown. Remove and set aside.
2. Heat a large heavy pot (a dutch oven works great for this) over medium high heat. Add the dry herbs and cook for about 15-30 seconds until lightly toasted and fragrant.
3. Add a healthy drizzle of olive oil to coat the pan and the onions. Cook for about a minute until they soften. Add the garlic and cook for another minute. Add the rest of the ingredients – the chipotle peppers, black beans, stock and tomatoes – and mix to combine. Bring to a light boil, then turn the heat down to a simmer and cook for about 2-3 hours, until black beans are tender.
4. When ready to serve, fold the squash into the chili. Ladle into bowls and serve with sour cream or strained yogurt, lime and cilantro.
Originally featured in Spilling the Beans