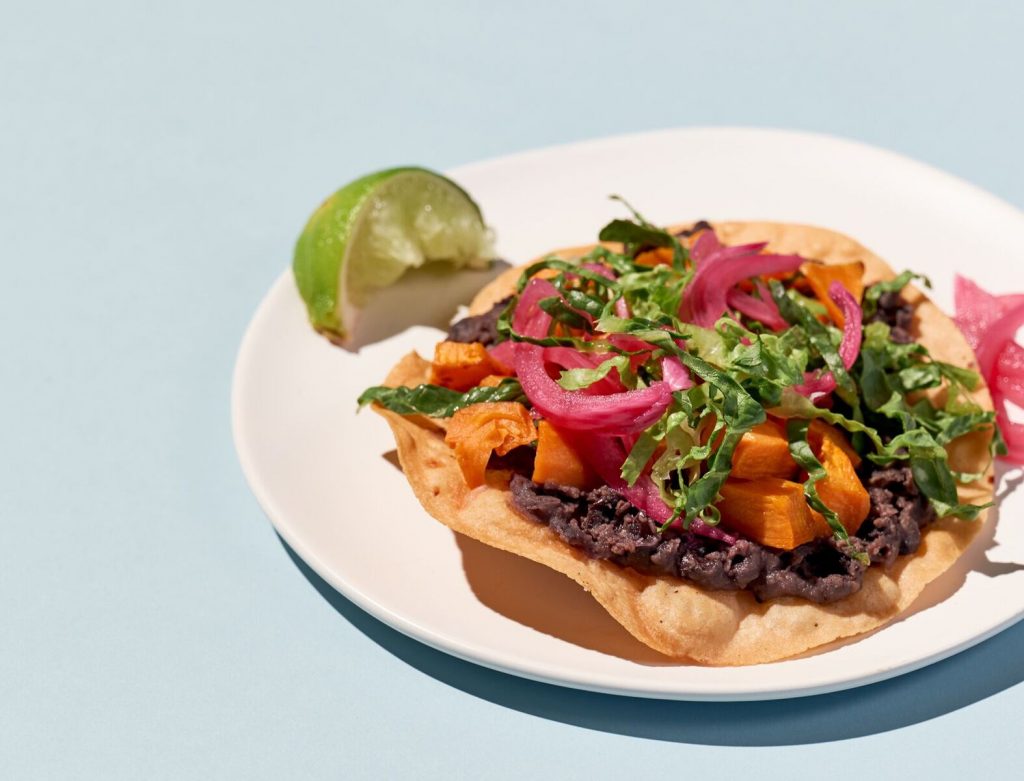 Black Bean and Sweet Potato Tostadas
This tostada is an easy way to use up what's left in your fridge, but transform it enough so you don't feel like you're having #sadleftovers. Plus, we're obsessed with these crispy grain-free tostada shells—they're a totally addictive snack.
2 grain-free tortillas
3 tablespoons olive oil, divided
½ recipe of Easy Black Beans or ½ can of rinsed and drained black beans
1 clove garlic, grated
¼ teaspoon cumin
½ cup water
to garnish:
cilantro
shredded lettuce
1. Preheat the oven to 400°F.
2. Using 1 tablespoon of olive oil, brush both sides of each tortilla and lay flat on a baking sheet. Sprinkle with a little flaky salt and bake until crispy and golden brown, about 10 minutes. Set aside.
3. Peel the sweet potato, cut into 1-inch pieces, and toss with a little olive oil and a large pinch of salt. Place on a parchment-lined baking sheet and roast in the oven for about 20 minutes, or until tender and starting to brown.
4. In a small pan, heat another tablespoon of olive oil over medium heat. Add the garlic and cumin and sauté for a minute until fragrant, then add the beans and water. Use a potato masher to smash the beans to a creamy consistency.
5. To assemble the tostadas, spread half the bean mixture over each tortilla. Then top with the sweet potatoes, shredded lettuce, pickled onions, and cilantro. Serve with leftover creamy cilantro dressing if you like.
Originally featured in The Annual goop Detox 2018