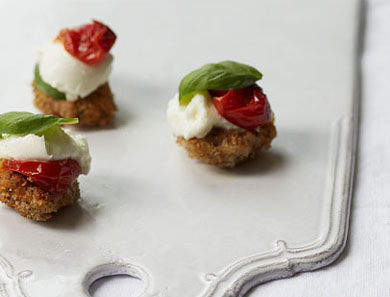 Bite-Size Chicken Caprese
Caprese meets chicken parm…in a bite. These are also fun to skewer.
1. Heat the oven to 375 degrees F. Arrange cherry tomatoes in a baking dish and drizzle with olive oil. Season with sea salt and freshly ground pepper and place in oven. Keeping a close eye on them, cook for about 10 minutes until they've burst and browned a bit, but not burned or dried out.
2. Meanwhile, place eggs in a shallow bowl and whisk. Line the bottom of another shallow bowl with breadcrumbs. Place chicken in eggs, then pick them up with your hands, letting excess egg run off, and dredge them in the breadcrumbs.
3. Coat the bottom of a large frying pan with olive oil, about ½ inch deep, over medium high heat. When the oil is hot enough to sizzle, carefully place the chicken breasts in the oil. Cook for about 1-2 minutes on each side, until lightly browned and crisp, making sure they're cooked all the way through. Arrange on a serving platter.
4. With your hands, tear mozzarella into pieces that fit on top of the chicken, and place them there. Add a cherry tomato on top of the mozzarella and a fresh piece of basil on top of that. (Feel free to play around with the arrangement, for example, placing basil before the cherry tomato or the mozzarella on top of the tomato, etc.)
5. Serve without utensils.
Originally featured in Small Bites