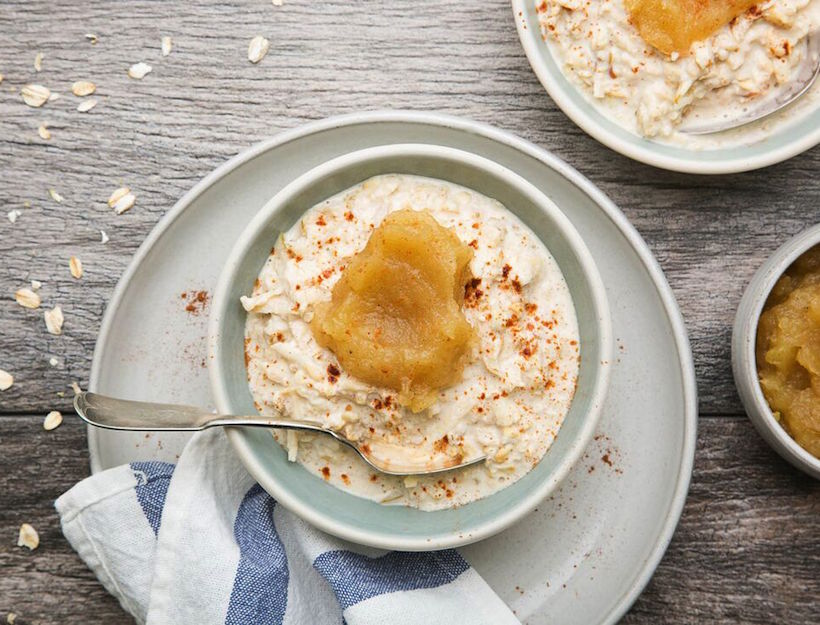 Bircher Muesli with Spiced Caramel Apple Jam
Make this on Monday morning to eat throughout the week.
for the muesli:
2 Gala apples, quartered and cored (not peeled)
2 cups old-fashioned rolled oats
2 cups plain low-fat yogurt
1 cup apple juice
¼ teaspoon ground cinnamon
for the spiced caramel apple jam:
2½ cups granulated sugar, divided
¼ cup fresh lemon juice
5½ pounds Granny Smith apples (about 12)
1 vanilla bean, split lengthwise
1 teaspoon ground cinnamon
¼ teaspoon freshly grated nutmeg
To make the muesli:
1. Using a box grater, coarsely grate the apples into a large bowl. Mix in the oats, yogurt, apple juice, and cinnamon. Cover and refrigerate overnight. Muesli can be stored for up to three days, covered and refrigerated.
2. Divide the muesli among 4 bowls, and top with spiced caramel apple jam.
to make the apple jam:
1. In a large, heavy pot, combine 2 cups of the sugar and the lemon juice. Peel, core, and cut the apples into 1-inch pieces, stirring them into the sugar mixture as you go along. By the time you finish cutting the last apple, most of the sugar will have dissolved.
2. Set the pot over medium-high heat and cook, stirring often, for about 15 minutes, or until the apples release their juice and the mixture simmers.
3. Meanwhile, scrape the seeds from the vanilla bean and stir the seeds into the apple mixture. Stir in the scraped vanilla bean along with the cinnamon and nutmeg.
4. Reduce the heat to medium-low and simmer gently, stirring occasionally, for 20 to 25 minutes, or until the apples soften and fall apart and the mixture thickens.
5. Heat a medium heavy sauté pan over medium-heat. Sprinkle the remaining ½ cup sugar over the hot pan and cook without stirring for about 2 minutes, or until the sugar dissolves and turns an amber-brown color. As the sugar dissolves, tilt the pan to allow the melted sugar to brown evenly. Immediately stir the caramelized sugar into the apple mixture.
6. Remove the jam from the heat and immediately divide the jam among 6 sterilized 8-ounce canning jars and secure the lids tightly. Allow the jam to cool to room temperature, then refrigerate until ready to use.