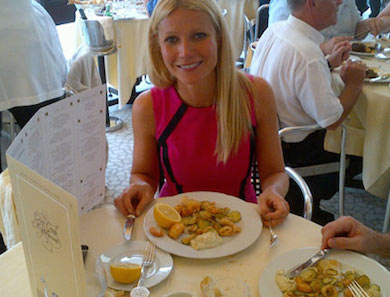 Bigoli in Salsa (Whole-Wheat Spaghetti in a Light Anchovy Sauce)
This recipe is from the Grand Canal Restaurant at the Hotel Monaco. I'm eating the Fritto here, which was followed by this insane pasta.
300 gr. "bigoli" Whole-wheat Spaghetti
500 gr. white onions
350 gr. salted anchovies cleaned
200 gr. extra virgin olive oil
2 bay leaves (simmered)
black pepper to taste
5/6 gr. wild fennel
Salt and pepper to taste
40 gr. Parmesan cheese (optional)
50 gr. butter
1.To make the sauce, slowly braise the peeled and finely chopped onions in the oil together with the bay leaves and the black pepper for about 10 minutes. Add the cleaned and de-salted anchovies. Cook gently for another 15/20 minutes, or until the anchovies and onions have melted together into a creamy sauce.
2.Cook the Bigoli in unsalted water until "al dente." Season the bigoli with the sauce, butter, parmesan and wild fennel.
Originally featured in Pasta Recipes from my Favorite Italian Hotels