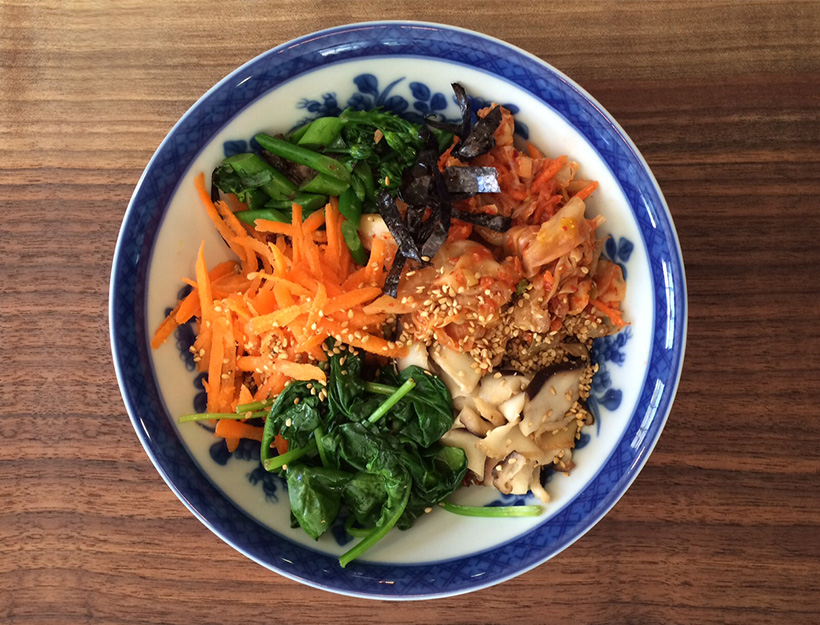 Bibimbap
Bibimbap, or "mix it up," is essentially a rice bowl which you can adorn with whatever toppings you like. A great vehicle for leftovers.
4 cups cooked short grain brown rice
about 4 cups of various cooked vegetables (we used: sautéed zucchini and beans sprouts with ginger and garlic blanched broccolini; blanched baby bok choy; and sautéed shitake mushrooms with sesame oil, ginger and garlic)
1 block firm tofu, drained, sliced and lightly fried (or prepare it anyway you like)
4 scallions, thinly sliced
2 tablespoons of toasted sesame seeds
1 large sheet nori seaweed, shredded
1 cup prepared kimchi (Korean pickled cabbage)
1. Distribute the rice amongst four bowls.
2. Allow everyone to add whatever toppings they like.
3. Bibimbap it—mix it all up!
Originally featured in Bibimbap