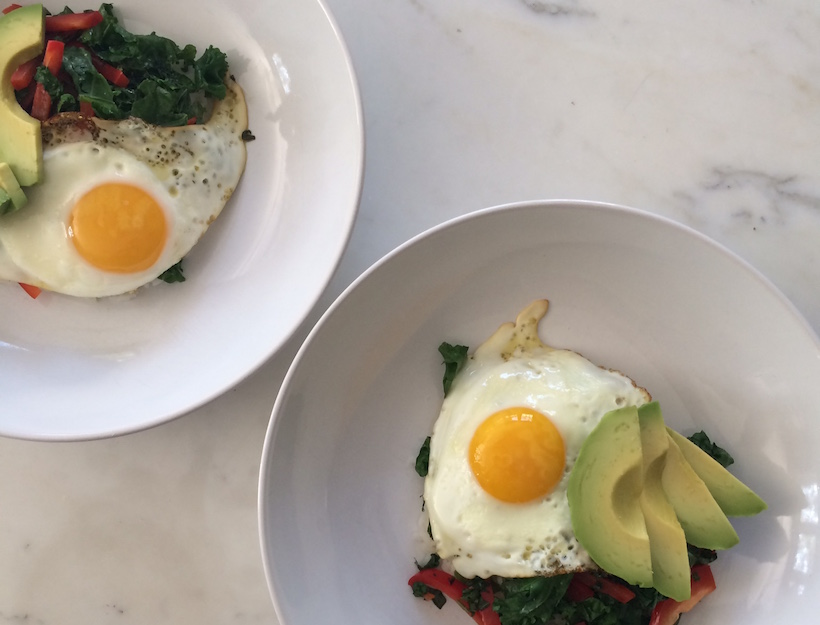 Dinner is inspired by a recipe from Kim Kasner Stone, Lisa and Susan designed a lower inflammatory Bibimbap chock-full of veggies and topped with a sunny egg and some rich avocado.
1. In a medium saucepan, bring 2 cups of water and 1 cup of rice to a boil over high heat. Lower heat to a simmer, cover, and cook until water is absorbed (about 20-30 minutes). Set aside.
2. Meanwhile, heat 1 tablespoon of olive oil in a large frying pan over medium heat. Add kale or spinach, bell pepper, garlic, and salt, and cook 3-5 minutes, or until kale is wilted. Remove vegetables from the pan and set aside, keeping warm.
3. Add remaining olive oil to the same pan and fry eggs to desired doneness.
4. Divide rice into 4 bowls. Top with sautéed vegetables, eggs, and avocado. Drizzle lightly with tamari and add sriracha or hot sauce to taste.
Originally featured in Cooking Through Cancer