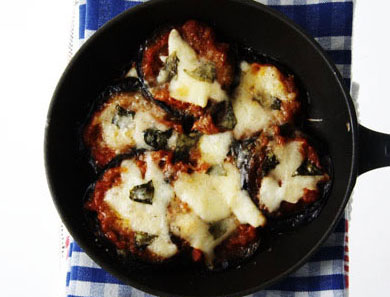 This perfect recipe trades heavy breading for light dusting, then adds good cheese and fresh basil. The leftovers make a killer sandwich.
1. Slice the eggplants into about 1/3″ discs. Sprinkle slices with a small pinch of coarse salt on each side and place in a single layer between two clean kitchen towels. Place a cookie sheet on top and weigh down with something heavy (a few cans of beans or tomatoes will do). Let the eggplant sit for 20 minutes.
2. Preheat the oven to 350°F.
3. Lightly dredge the eggplant slices in the flour.
4. Heat 1/4″ of olive oil in a large skillet over high heat. When a pinch of flour sizzles on contact, add the eggplant slices in a single layer, turn the heat to medium-high and cook for about one and a half minutes on each side or until dark golden brown.
5. Drain the eggplant on paper towels and repeat in batches until all of your eggplant is cooked, adding more oil as necessary.
6. In a 13″ x 9″ baking dish, arrange as many slices of eggplant as can fit snugly in a single layer.
7. Top each slice with a small spoonful of tomato sauce, a few small pieces of torn mozzarella, a bit of basil and a dusting of parmesan.
8. Continue the layers, evenly distributing all the ingredients, until everything is used up.
9. Bake for 25 to 30 minutes or until the cheese is melting and bubbling and the house smells divine.
*For our simple homemade, never-fail tomato sauce that's always in our fridge…In a large saucepan, slowly cook 6 cloves of thinly sliced garlic in a couple tablespoons of olive oil for 5 minutes over low heat. Add two large, fresh basil leaves and stir for a minute. Add two 28-ounce cans of whole, peeled tomatoes along with their juice and two more whole basil leaves. Bring the sauce to a boil, turn down the heat, season with salt and pepper and let it bubble away on low heat for 45 minutes. Cool and refrigerate.
Originally featured in Giancarlo Giammetti