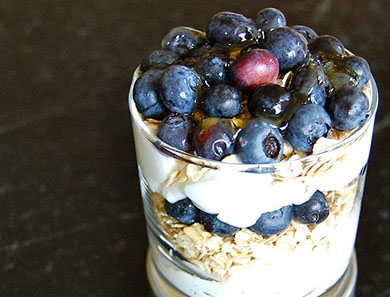 Berry Yogurt Parfait
The presentation of this parfait looks fancy but the preparation is about as simple as pouring a bowl of cereal.
14oz (2 small containers) of thick Greek yogurt
1 pint of fresh berries (we used blueberries, but whatever berry you can find is perfect)
1 cup of raw oats or granola
honey or maple syrup to drizzle
1. Add half the yogurt to the bottom of two pretty glasses.
2. Sprinkle on a layer of raw oats or granola.
3. Add a layer of blueberries. Repeat.
4. Top with as much honey or maple syrup as you desire.
Originally featured in Beyond Valentine's