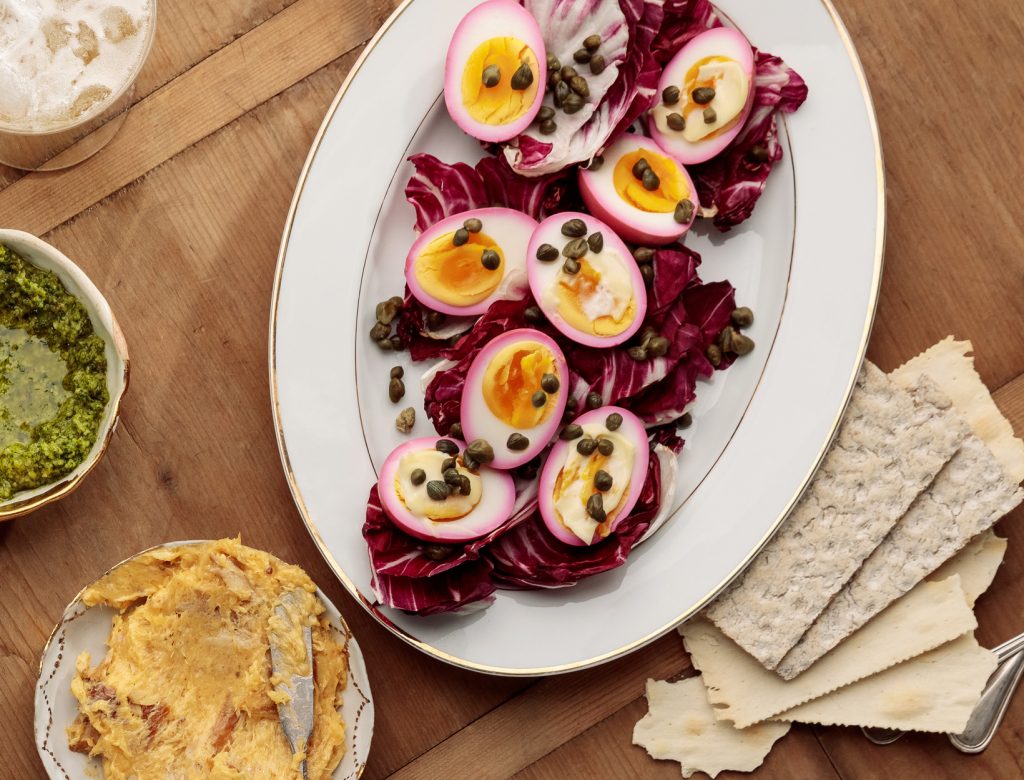 Beet-Pickled Deviled Eggs
"A bright, pickled take on a party staple. The beet gives color, while the acidic vinegar brings a tangy bite—if there's one vesper component that gets scooped up the fastest, it's these delicious eggs, so make a bunch!"
for the pickling liquid:
2 cups distilled white vinegar
1 cup plus 3 cups water
1 tablespoon celery seed
1 tablespoon kosher salt
1 small red beet, peeled
for the deviled eggs:
6 eggs (from the farmers' market, so the yolks will be extra yellow)
¼ cup Kewpie mayo
1 teaspoon kosher salt
to serve:
Maldon sea salt
olive oil
1. Place vinegar, 1 cup water, celery seed, and salt in a small pot over medium-high heat and bring to a rolling boil.
2. Reduce heat to low and simmer for 10 minutes.
3. Remove from heat, place the beet in the pickling liquid, and let liquid cool to room temperature.
4. While liquid is cooling, in a medium pot, bring the remaining 3 cups of water to a boil over medium-high heat. Once the water boils, place the eggs in the water and turn heat to a low simmer, being careful to not let the eggs rumble too hard and crack. Boil the eggs for 8 minutes.
5. While waiting for the eggs, prepare an ice-water bath in a large mixing bowl. Once they're done, place the eggs in the water bath until chilled.
6. Peel the eggs and place them in glass jars. Pour the beet liquid over the top (throw the beet itself in the compost or save it for another use). Cover, place in fridge, and allow to pickle overnight.
7. The next day, remove the eggs from the pickling liquid and cut them in half lengthwise. You can either make traditional deviled eggs using the instructions that follow, or you can simply dollop a bit of Kewpie mayo on each halved egg and finish with a bit of salt.
8. To make traditional deviled eggs, scoop or pop the solid yolks from the whites (avoid breaking the whites!). Place egg whites on a sheet tray or serving platter.
9. In a medium mixing bowl, combine the egg yolks, Kewpie mayo, and salt. Using a cake spatula or a large spoon, mix until smooth.
10. With a teaspoon, fill each egg white with yolk mixture, piling each one taller than the surface of the egg white.
11. When ready to serve, sprinkle each egg with Maldon sea salt and a dash of olive oil.