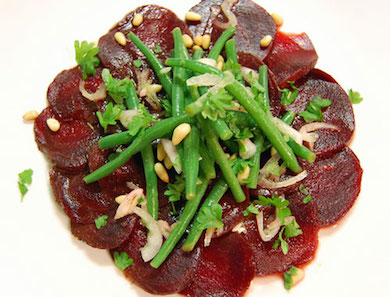 Beet Carpaccio with Marinated Bean Salad
Beets, green beans and toasted pine nuts create a beautiful, detox-friendly treat. Add steamed brown rice to make it a full meal.
1. Preheat oven to 400°F.
2. Wash beets well and remove green tops if necessary.
3. Line a roasting pan with aluminum foil and place the beets in the pan. Coat them with a tablespoon of olive oil and sprinkle with salt.
4. Cover the beets with aluminum foil, place in the oven to roast for about an hour or until tender. Beets are done once they can be easily speared with a fork.
5. Remove from oven and let cool. Alternatively, if you have a steamer or steam extension, you could steam the beets for about 40 minutes, or until soft.
6. While beets are cooking, mix the shallots in a large bowl with the parsley, mustard and vinegar. Slowly whisk in the rest of the olive oil and season with salt and pepper to taste. Set aside.
7. Bring 6 cups of water to a boil. Add the beans and let them cook for about 3 minutes. You just want to blanche the beans, not cook them through, so that they stay firm and beautifully bright green.
8. Remove beans from the water and add them to the marinade.
9. Once the beets have cooled, slice them as thin as you like, season with salt and pepper and arrange in a single layer over 4 large plates.
10. Top with green beans, spooning any leftover marinade on top, and sprinkle with toasted pine nuts.
Originally featured in Healthy Recipes