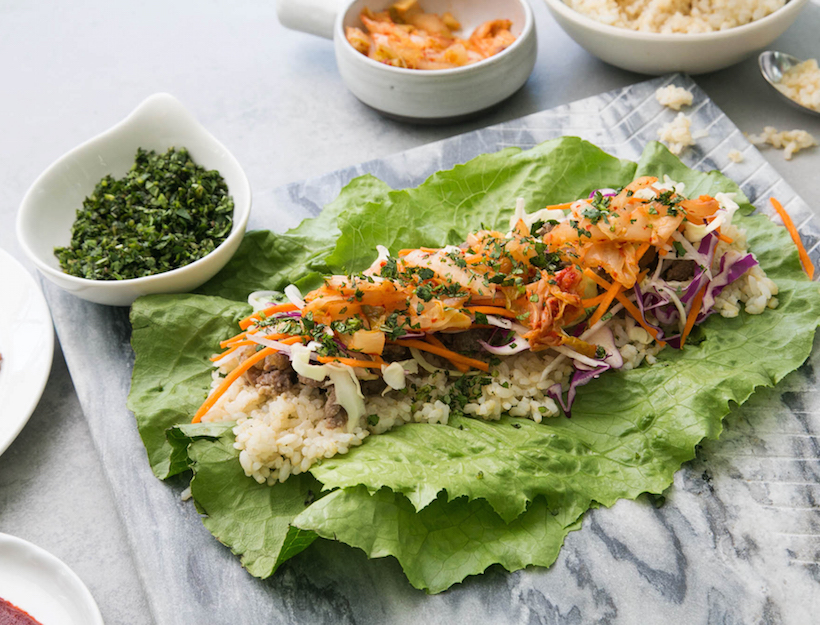 Bulgogi is a popular Korean BBQ marinade and adds great depth of flavor to this umami-dense KyeRito. The components do take a bit of prep, so plan ahead with timing, and make a lot—there's a reason people request this one even though it's not on the menu. Make it vegan by substituting Portobello mushrooms for the beef (these will only need to marinate for 4 hours).
1. A day in advance, marinate the beef: Blend first seven ingredients together in a blender or food processor, massage marinade into the meat, and refrigerate overnight. The next day, grill or sauté until cooked through.
2. To make the gochujan sauce, add water and brown sugar to pan and heat until the sugar dissolves. Add miso and stir until dissolved, then add chili powder and stir until smooth. When the mixture starts to boil, remove from heat and let cool. When cool, stir in salt and rice vinegar.
3. For the vegetable mix, simply toss all julienned vegetables together and set aside.
4. To assemble the wraps, divide the romaine leaves into sets of two and overlap them. Spread ½ cup rice across the middle of each wrap, then layer the beef or mushrooms, the kimchi, the vegetable mix, the gochujan sauce, the Asian pear, and sprinkle over the herbs. Carefully roll them up, then wrap in parchment, wax paper, or cellophane; tape the side and bottom and pull back wrapper to eat.
Originally featured in DIY Portable Lunch: Kye's Rolls