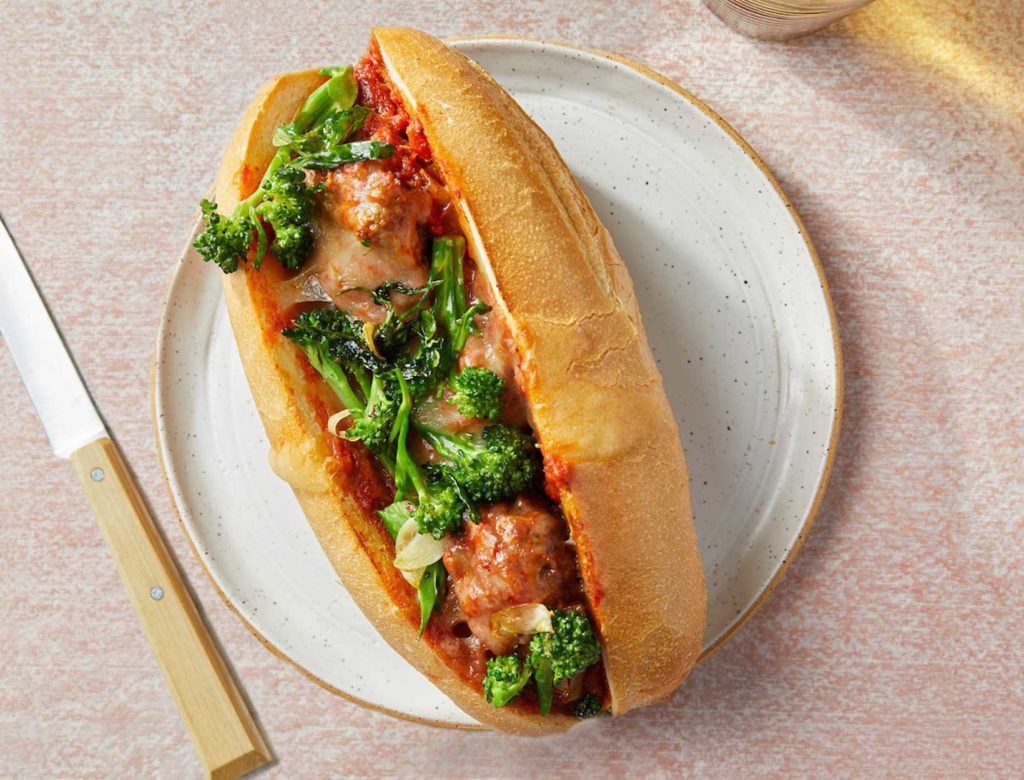 Veggie-Packed Meatball Subs with Garlicky Broccoli Rabe
We wanted to give expecting moms something that really feels like comfort food but is sneakily packed with nutrients. We don't have a ton of red meat recipes, and we feel good about the 50-50 ratio of grass-fed ground beef and veggies in these meatballs. Here's what Gerda Endemann, our senior director of science and research, says: "This ultimate comfort food is also, amazingly, the ultimate nutrition to support you and your baby during pregnancy. A lot of veggies with a little meat gives you the best of both worlds. You get all the vitamin and mineral and antioxidant benefits of the beets and broccoli rabe, combined with the highly bioavailable iron and complete protein from the beef. Iron is probably the hardest nutrient to get enough of during pregnancy—it takes a lot to build your baby, and often there isn't enough left over for mom's strength and energy needs. Meat contains iron, and even better, a little meat increases the normally very poor absorption of iron from vegetables."
1. Combine the onion and garlic in a food processor and pulse until finely chopped. Then heat a shallow braising pot over medium heat. Add 3 tablespoons of the olive oil to the pan and, once hot, add the onion-and-garlic mixture along with a big pinch of salt.
2. While the onions and garlic sweat, add the beets, mushrooms, and zucchini to the food processor and pulse until finely chopped. Then add that to the onion-and-garlic mixture along with another pinch of salt and the oregano, fennel, and chili flakes. Cook this mixture down for about 10 minutes, until all the flavors have melded and it's beginning to caramelize. Remove from the heat and let cool.
3. Add the ground beef, Parmesan, bread crumbs, and salt to a bowl. Once thoroughly cooled, add the beet mixture. Gently combine the mix and shape into 2-inch meatballs.
4. In the same shallow braising pot, heat the remaining 3 tablespoons olive oil over medium-high heat. Gently add the meatballs, turning every few minutes to brown the exterior. Once they're browned all over, reduce the heat and gently add the marinara sauce to the pan (careful to avoid oil splatter). Cover and let simmer for about 30 minutes.
5. While the meatballs simmer, make the broccoli rabe: Heat a skillet over medium-high heat with 3 tablespoons olive oil. Add the broccoli rabe and a pinch of salt. Sauté for about 8 minutes, stirring occasionally. Then add the garlic and chili flakes, reducing the heat slightly to avoid burning the garlic. Cook for another 3 to 5 minutes. Set aside.
6. Once the meatballs are broccoli rabe are cooked, assemble the subs: Preheat the broiler for a couple minutes. Set the rolls on a sheet tray (not lined with parchment—it will catch fire under the broiler!) and load 2 or 3 meatballs into each sub, spooning some marinara over them as well. Divide the mozzarella between the two sandwiches. Set the tray under the broiler for about 3 minutes, until the cheese is bubbly and slightly browned.
7. To serve, top each sub with a couple spoonfuls of the broccoli rabe.
Originally featured in Veggie-Packed Meatball Subs, Curry Noodle Soup, and More Nutritious Pregnancy Foods