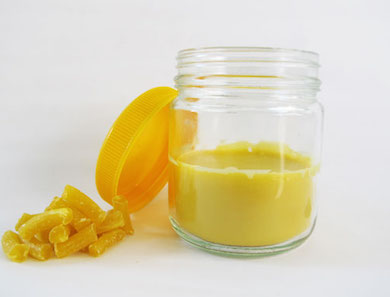 Bee Propolis Balm
This home-made balm was recommended to us by the Unbeelievable gang.
5 tablespoons melted beeswax
5 tablespoons macerated calendula oil
1⁄2 teaspoon lavender oil
15 ml bee propolis liquid extract (NOT homeopathic tincture)
Melt the beeswax in a small ramekin inside a small pot filled with boiling water that goes half way up the side of the ramekin (make sure water does not get in the wax). (You can also use a double boiler.) Add the calendula oil and continue stirring with a wooden stick or similar, until blended and melted. Carefully remove the ramekin and add lavender and propolis. Let cool a bit but keep stirring so it doesn't harden unevenly. Once it starts to harden a bit, replace the ramekin in water and melt the mixture again, stirring all the while. Remove again and keep mixing until cooled a bit, blended and paste-like and then add to jar(s). Wipe out ramekin while still warm with a paper towel to remove balm before washing.
Originally featured in The Importance of Honey & Bee Pollen