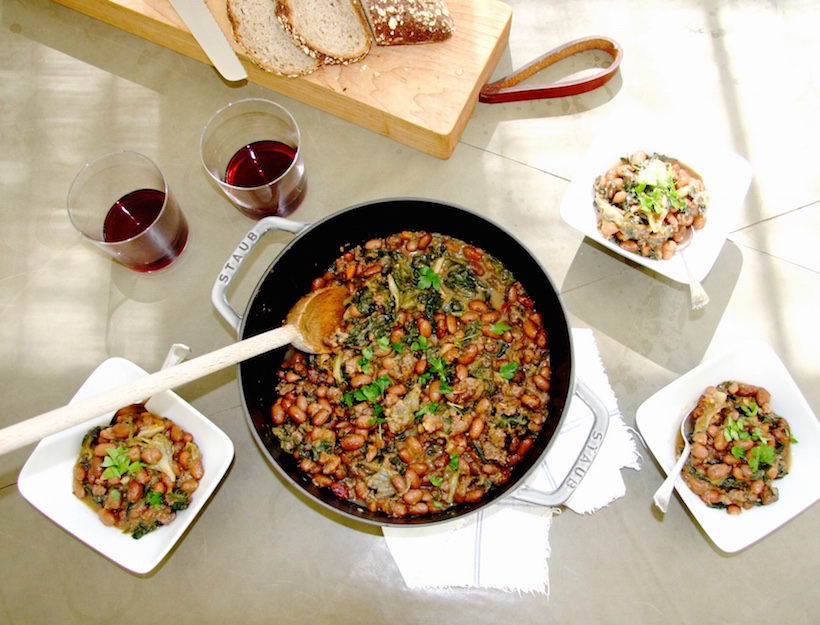 Bean Stew with Kale and Escarole
Hearty soups always seem to taste better the second day: This turkey sausage stew delivers that bang in seven idle hours. While it's great for a crowd, if you're cooking for one, make the whole recipe and freeze leftovers in easy-to-reheat individual portions.
2 tablespoons olive oil
¾ pound mild Italian turkey sausage, casings removed
1 medium red onion, peeled and diced
1 large carrot, peeled and diced
2 stalks celery, diced
3 cloves garlic, minced
pinch of salt
2 cups dried cranberry beans
4 cups chicken stock
1 teaspoon chopped thyme
2 teaspoons chopped rosemary
1 tablespoon chopped parsley
1 pinch red chili flakes
1 bunch kale, cleaned and roughly chopped
1 bunch escarole, cleaned and roughly chopped
1. Heat the olive oil in a sauté pan over medium-high heat. Add the sausage and cook for 5 minutes, or until cooked through and starting to brown. Using a slotted spoon, remove the sausage to a crockpot and add the onion, carrot, celery, garlic, and a large pinch of salt to the pan.
2. Cook the vegetables over medium heat for 5 minutes, adding another splash of olive oil if necessary. Add 1 cup of chicken stock to the pan to deglaze, then transfer this mixture to the crockpot along with the beans, the remaining 3 cups of chicken stock, the chopped herbs, and the chili flakes.
3. Set the crockpot to slow-cook on high for 7 hours.
4. Add the kale and escarole and continue to cook for another 40 minutes. Serve with a sprinkling of sea salt.