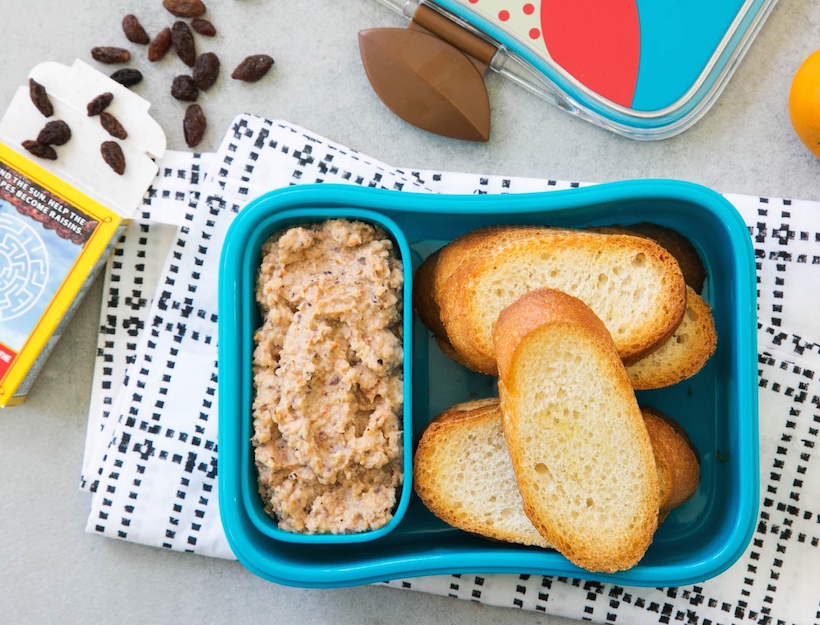 So Ludo suggests using fresh shelling beans from the farmer's market, but since we don't have a line cook, we used dried garbanzo beans (soaked overnight and cooked until just al dente). Don't reserve this one for kids only—it was a hit with the goop staff and would be a perfect appetizer for a cocktail party.
1. Preheat the oven to 400 degrees.
2. Place cooked beans, ricotta cheese, sun-dried tomatoes, and olives in a food processor and pulse for 30-45 seconds. Add three tablespoons olive oil, salt, and pepper, and pulse for an additional 10-15 seconds, or until the mixture is blended but still a bit chunky.
3. Drizzle sliced baguette with olive oil, and toast in the oven for about five minutes, until lightly golden.
4. Package the bean spread separately from toasted baguettes. Kids have fun dipping or topping the toast slices themselves at school.
Originally featured in Lunchbox Ideas From Our Favorite Chef Dads