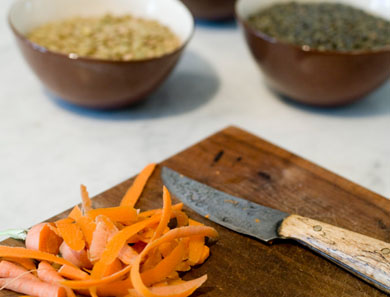 This is our basic, everyday recipe—simple to prepare and a delicious kitchen staple.
1. Place a large pot over high heat with 4 cups of water. When the water comes to a boil, add the lentils, turn down to a simmer and cook for about 5 minutes. Drain the lentils, rinse and set aside.
2. Place the pot back over medium high heat and coat with olive oil. Add the onion and carrots. Cook for about a minute until soft, then add the garlic and cook for another minute. Add the bay leaf and the lentils and cook for about 30 seconds, stirring to coat with the oil. Add the broth and the tomatoes and season with salt and pepper. Bring heat down to a medium, cover and cook until lentils are tender, about 25 minutes.
3. Transfer 2 cups of the soup to blender and purée until smooth. Return the purée back to the pot and mix to combine. Ladle soup into bowls and garnish with a drizzle of vinegar if desired. (FYI, we were split down the middle on the vinegar in the test kitchen – one of us loved, one hated, one was undecided.)
Originally featured in Spilling the Beans