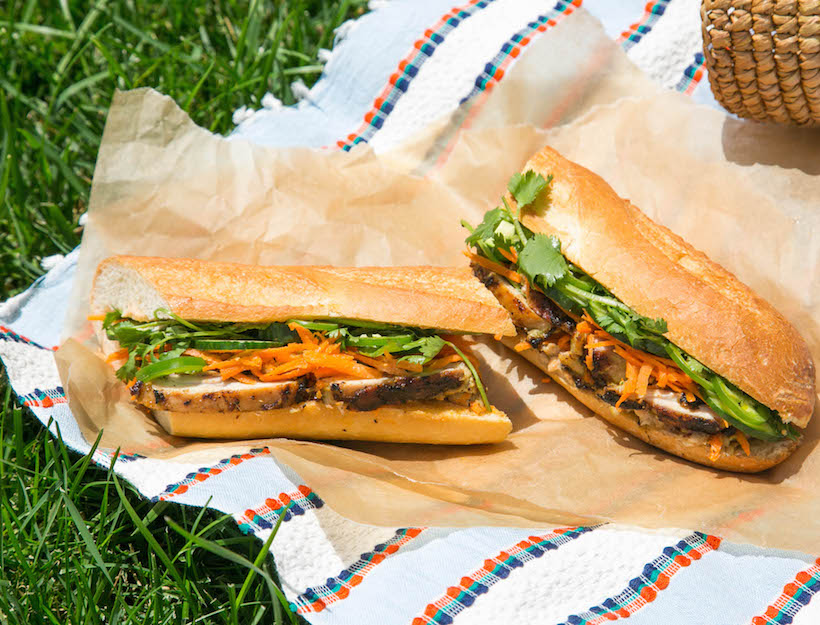 These aren't the most authentic (we skipped the pâté and didn't pickle our veggies, for starters), but they are seriously good. Buy the cheapest French-style baguette you can find—the fancy ones won't give you the right texture.
1. Preheat the oven to 400℉.
2. To make the marinade, combine all ingredients except the chicken in a high-powered blender or food processor and blend until smooth. Pour into a large bowl or baking dish with the chicken and marinate at room temperature for 20 minutes or in the fridge for up to 24 hours.
3. When you're ready to assemble, pop the baguette in the oven for a couple of minutes to crisp it up.
4. Meanwhile, cook the chicken in a grill pan over medium-high heat until nicely browned and cooked through, about 3 to 5 minutes per side.
5. Combine the vegenaise, sriracha, lime juice, and a pinch of salt. Cut the baguette in half and spread each side generously with spicy mayo.
6. Slice the chicken thighs and fill the baguette with chicken, grated carrot, sliced cucumber, sliced jalapeño, and cilantro stems.
Originally featured in An End-of-Summer Picnic