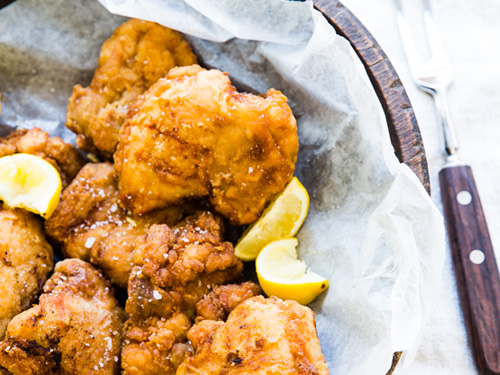 Brining the chicken is a really nice touch, as it locks in the flavor—this is otherwise a straightforward and easy recipe.
1. Fill a large pot with the water and add the salt and sugar. Place the pot over high heat and bring the liquid to a boil. Boil until the salt and sugar have dissolved, then remove from the heat and let cool. Refrigerate until well chilled.
2. In a small bowl, combine the paprika, cayenne, and black pepper. Season the chicken pieces well with the spice mixture and add them to the chilled brine. Refrigerate for 24 hours.
3. Remove the chicken from the brine, rinse it, pat it dry, and let it come to room temperature. Fill a cast-iron skillet with 2 inches of canola oil, set it over medium-high heat, and heat it until a cooking thermometer registers 350°F.
4. Put the flour in a shallow baking dish. Dredge the chicken in the flour, shake off the excess, and add it to the oil in batches. Slide a fish spatula under the chicken pieces so they don't stick to the bottom of the pan. Cook the chicken until golden brown and crisp, 12 to 15 minutes. "When they float," they're done," in Bane's words. Transfer the chicken pieces to a paper towel-lined plate, season with salt, and serve.
Originally featured in The goop Cookbook Club: Roberta's