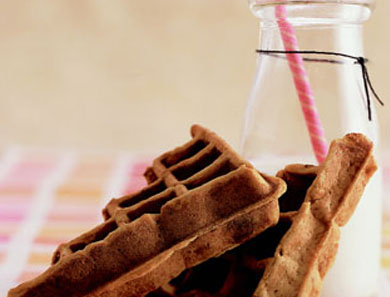 Banana Chocolate-Chip Waffles
Less naughty than they sound, with whole-wheat pastry flour, carrot purée and egg whites, your kids will love you for making them.
1. Preheat a waffle iron on high.
2. In a large bowl or zipper-lock plastic bag, mix the flour, baking soda, baking powder, and salt.
3. In another large bowl, beat the oil, egg whites, buttermilk, carrot puree, and banana with an electric mixer. Mix on low speed for 1 minute until smooth. Stir in the chocolate chips.
4. Add the flour mixture. Stir with a wooden spoon until just combined—the batter will be lumpy.
5. Coat the waffle iron with cooking spray. Ladle 1/8 to 1/4 cup of the batter into each compartment of the iron. Cook until the top of the iron releases easily and the waffle is lightly brown, 4 to 5 minutes. Serve immediately.
Contributed by doitdelicious.
Originally featured in Do it Delicious with Jessica Seinfeld