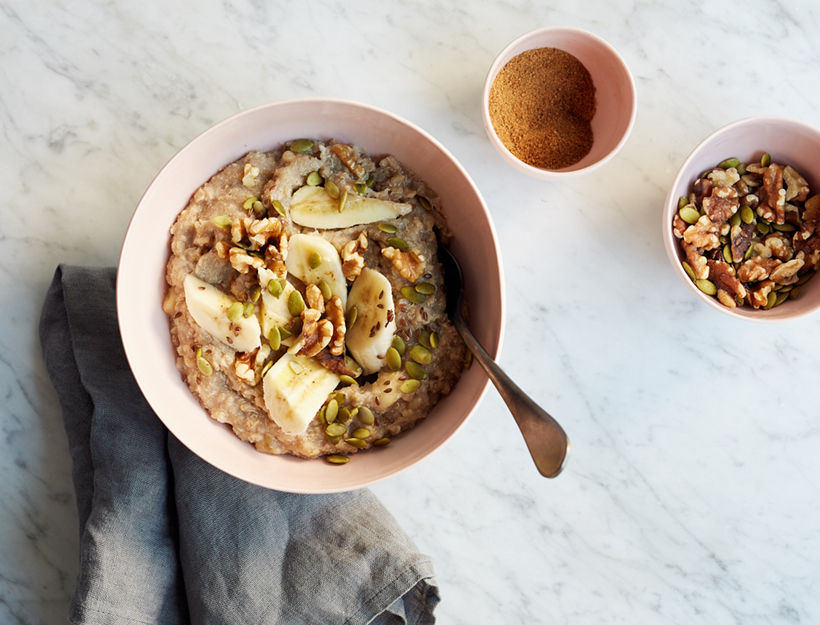 Banana Bread Porridge Bowl
This oatmeal bowl has all the great flavors of banana bread but comes together in about five minutes. Plus, the nuts and seeds (rich in antioxidants and vitamin B) will do wonders for your skin and hair.
1 ripe banana, cut in half
¾ cup almond milk
¼ cup water
pinch of salt
1 tablespoon coconut sugar
¼ teaspoon ground cinnamon
¼ cup quick-cooking oats
¼ cup quinoa flakes
½ teaspoon vanilla extract
2 tablespoons toasted walnut pieces
1 tablespoon toasted pumpkin seeds
1 tablespoon flaxseeds
1. Place half the banana in a medium saucepan and use a wooden spoon to roughly mash it.
2. Add the almond milk, water, pinch of salt, coconut sugar, and ground cinnamon to the pan and bring to a simmer over medium heat.
3. When the mixture is simmering, stir in the oats and quinoa flakes and cook for 1 to 2 minutes (longer if you like a thicker oatmeal), stirring often.
4. Stir in the vanilla extract and transfer to a bowl.
5. Slice the remaining half of the banana and arrange on top of the oatmeal.
6. Garnish with toasted nuts and seeds.