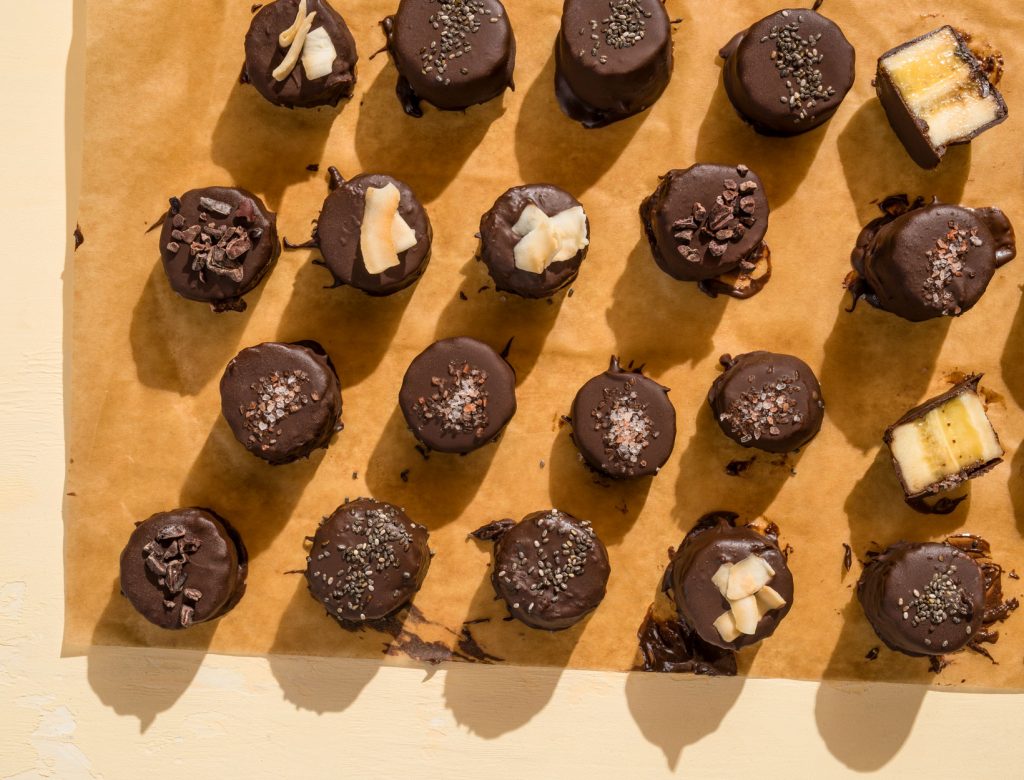 Banana Bonbons
Dark chocolate, cacao nibs, chia seeds, coconut flakes, and pink Himalayan salt turn this kid-friendly classic into something much more sophisticated. And the lovely, not-too-sweet, cool summer treat is incredibly easy to make.
10 ounces dairy-free dark chocolate chips
1 tablespoon coconut oil
4 bananas, cut into 2-inch pieces
topping options:
coarse pink Himalayan salt
chia seeds
toasted coconut flakes
cacao nibs
1. Heat the chocolate and coconut oil in a double boiler over medium-low heat. Once melted and well combined, remove from heat.
2. Set up a station with a sheet tray lined with parchment paper, the cooled chocolate sauce, the sliced bananas, and a small ramekin of each topping. With a fork, gently lower each piece of banana into the chocolate. Once it's covered, hold it over the bowl for a minute, allowing the excess chocolate to fall off. Then set it on the parchment-lined baking sheet. Finish with a pinch of the topping of your choice.
3. Once all the bananas are dipped and topped, let them set in the freezer for about an hour before serving.