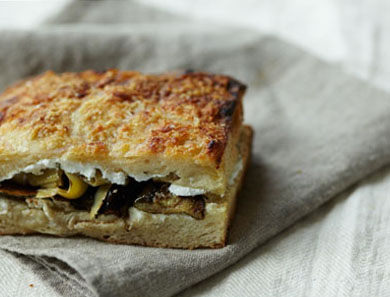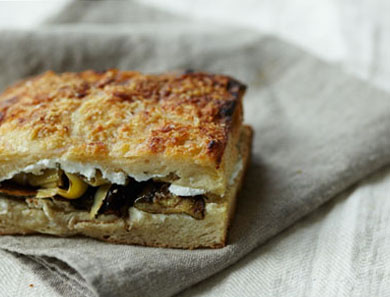 Balsamic Zucchini, Artichoke, and Chèvre Focaccia
The crispy, sweet balsamic zucchini and creamy artichoke and goat cheese melt into the fresh focaccia in a delightful combination of flavors.
1 large zucchini or 2 small or medium zucchini, sliced thin lengthwise and then once in half
2 or 3 prepared artichoke hearts (either steam them yourself or get a good-quality jar), torn into chunky pieces
2 to 3 tablespoons goat cheese
focaccia
extra virgin olive oil
balsamic vinegar
sea salt
freshly ground pepper
1. Season the zucchini with salt and pepper and coat with olive oil and vinegar. Toss to mix.
2. Heat the BBQ, grill pan, or broiler to high. Grill or broil for about 1 to 2 minutes on each side, until nicely charred.
3. Slice the focaccia lengthwise. Spread the chèvre evenly on each side (or just one depending on your preference). Layer the artichokes evenly on the bottom piece of bread, then layer the zucchini evenly on top of that.
4. Close and slice.
Originally featured in London Picnic