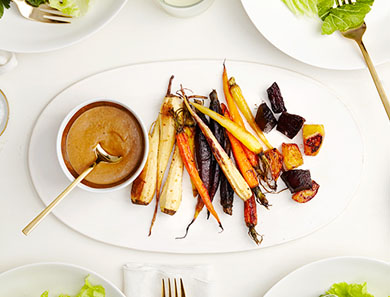 Balsamic Miso Root Salad
We originally made a miso tahini dressing for this, but did some playing in the test kitchen and swapped the tahini for a sweeter balsamic – it ended up making the salad.
for the veggies
about 2 lbs mixed root vegetables (we use baby carrots, the smallest parsnips you can find and a mix of yellow and red beets)
olive oil
salt + pepper
for the balsamic miso vinaigrette
2 tablespoons sesame oil (untoasted)
2 tablespoons balsamic vinegar
2 tablespoons white balsamic vinegar
2 tablespoons yellow miso
1. Gently peel the carrots and parsnips. Leave them whole if they are all the same size – if not, chop the larger veggies to equal the size of the smaller ones. Peel and chop the beets into rough cubes, about 1-inch all around.
2. Place all the veggies onto a baking sheet. Season with salt and pepper and drizzle lightly with olive oil. Place in a 400°F degree oven and bake for about 20-25 minutes, shaking them periodically for even cooking. Remove from oven when soft, slightly brown and caramelized.
3. Meanwhile, make the dressing. Place all the ingredients aside from the oil in a mixing bowl. Drizzle in the oil while whisking to combine. Season to taste.
4. Plate veggies with dark, leafy winter greens of choice and drizzle dressing generously over top.
Originally featured in A Warming Winter Detox