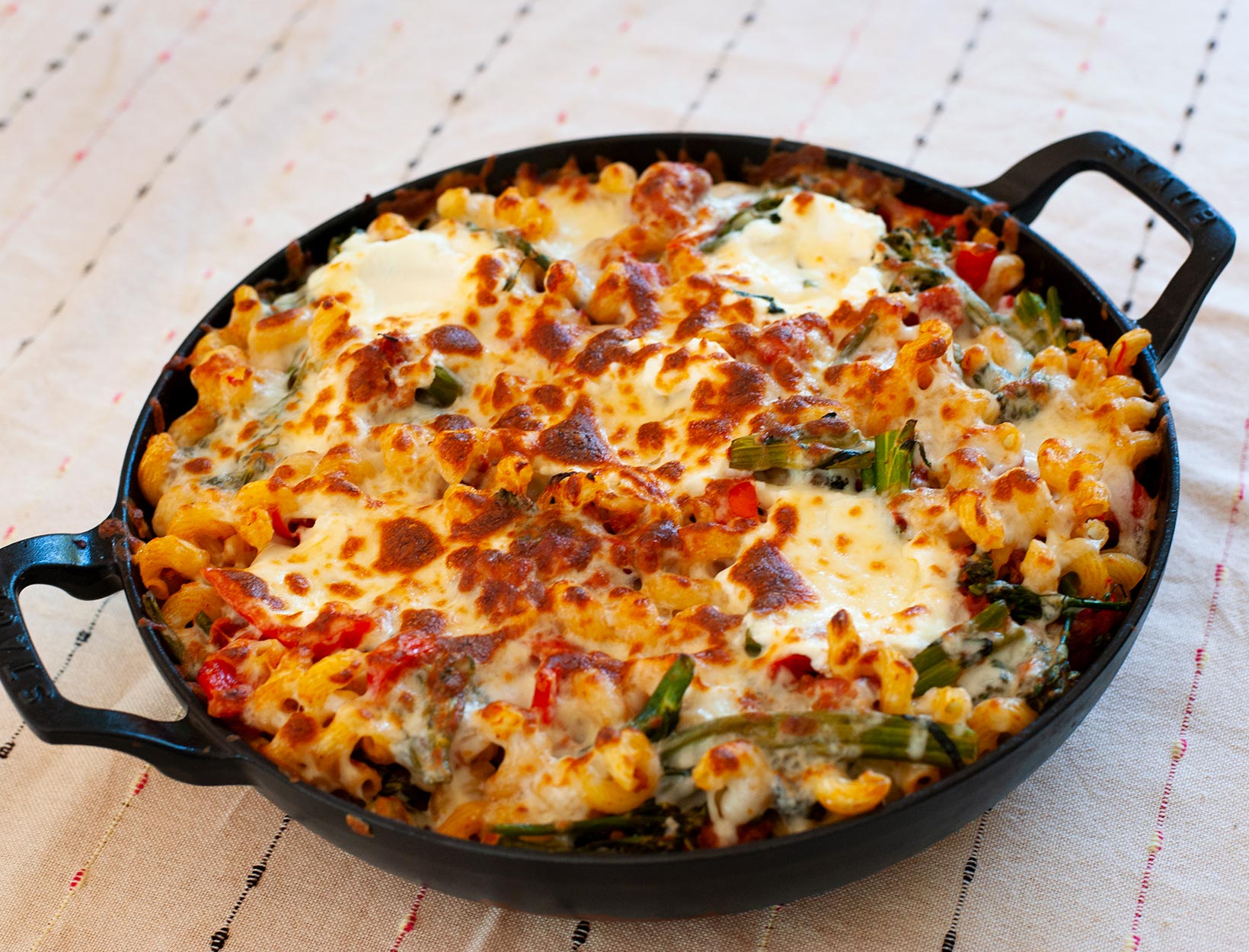 Baked Ziti with Sausage, Peppers, and Broccoli Rabe
Baked ziti has all the hearty, cheesy qualities of a lasagna with a fraction of the effort. This one is inspired by those sausage and pepper subs you get at old-school Italian delis. We added broccoli rabe for some green and bitterness to cut through the rich sausage and cheese. You can drop this off for someone fully baked or just before baking with instructions.
1. Heat a generous glug of olive oil in a heavy bottom pan (a 12-inch cast-iron skillet
or a 3.5-quart braiser is best) over medium-high heat. Once the oil is shimmering, add the sausage in little chunks, breaking them up with a spoon but not stirring too much, so they can develop a nice brown crust. After 6 to 8 minutes, the sausage should be browned on the outside. (It's okay if it's still pink in the center.) Remove the sausage from the pan and set aside.
2. Reduce the heat to medium and add another glug of olive oil to the same pan. Add the onions and cook for about 5 minutes, stirring them and scraping up any brown bits left behind by the sausage. Season with a big pinch of salt.
3. Add the bell peppers and garlic and cook for another 5 to 8 minutes, until the peppers are tender.
4. Add the tomato paste and cook for about 5 minutes. Then add the tomatoes and turn the heat up to medium-high. Bring the sauce to a boil, then reduce the heat to medium-low and add the reserved sausage along with the Calabrian chili paste. Let simmer gently for about 30 minutes, until the sauce is slightly thickened and the flavors have melded together.
5. After 30 minutes, taste the sauce to see if it needs any salt or additional chili paste (if you want more heat). Once you're happy with the seasoning, turn off the heat, remove the sauce from the stove, and let cool for about 30 minutes. If you haven't already, this is a good time to boil the pasta and blanch the broccoli rabe.
6. After 30 minutes, the sausage sauce should be slightly cooled. Gently fold the pasta and broccoli rabe in with the sausage mixture. Once fully combined, dot the top with dollops of ricotta cheese and cover the whole thing with the mozzarella.
7. Bake at 425°F for about 20 minutes, until the cheese is brown and crispy on the edges. Let it sit for 10 minutes before dishing it up.
Originally featured in Father's Day Recipes, Plus Food Gift Boxes and Subscriptions