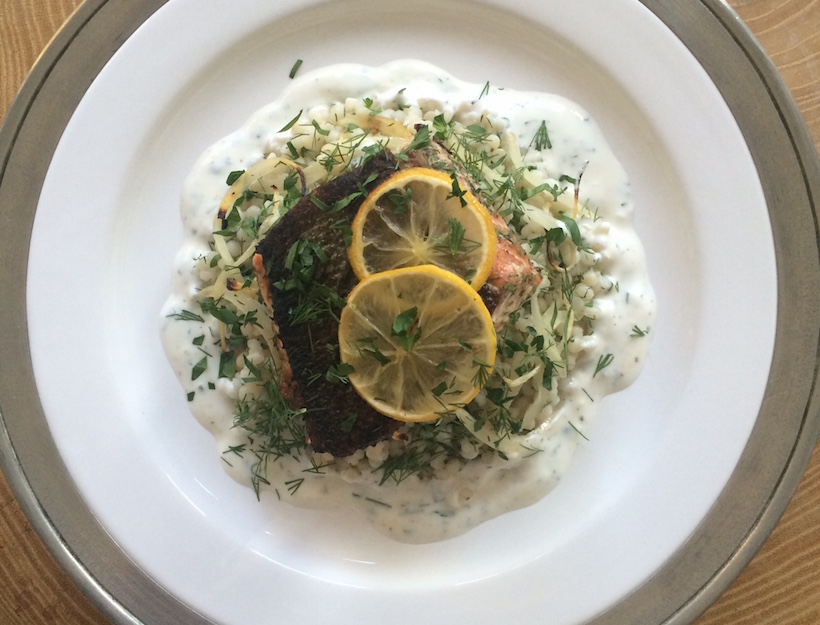 Baked Salmon with Herbed Yogurt Sauce, Caramelized Lemon & Couscous
Extremely elegant and easy to prepare, this makes a perfect main course for a dinner party. At L.A. Kitchen they serve it with simply roasted cauliflower, which makes it particularly good.
for the salmon:
40 ounces salmon, cut into 10 4-ounce portions
4-ounces olive oil
salt and pepper to taste
1 bunch dill, finely chopped
3 lemons, sliced
1 medium yellow onion, thinly sliced
for the yogurt sauce:
1 cup greek yogurt
1 teaspoon lemon zest, finely-grated
1 tablespoon lemon juice
2 teaspoons finely chopped mint leaves
water to thin (about 1 tablespoon)
salt and pepper to taste
for the couscous:
5 cups Israeli couscous
2 ½ cups water
2 ½ teaspoons fish or chicken broth
5 teaspoons olive oil
¾ cup parsley, finely-chopped
salt to taste
1. First, rub the salmon with olive oil, dill, salt and pepper, and marinate in the fridge for 4 hours.
2. Meanwhile, make the yogurt sauce. Whisk together yogurt, lemon zest, lemon juice, and mint leaves. Thin with water and season with salt and pepper to taste. Store in the fridge until ready to use.
3. To make the couscous, bring water and broth to a boil, add olive oil and a pinch of salt. Remove water from the heat and pour in couscous. Cover and let sit 8 minutes.
4. Once the couscous absorbs all the liquid, fluff with a fork, add parsley, and season to taste with salt.
5. To cook the salmon, preheat the oven to 375°F. Toss sliced lemons and onion with olive oil, salt, and pepper in a medium bowl.
6. Heat a sauté pan over medium-high and pan sear the salmon, skin-side down, until browned and crispy, about 3 minutes.
7. Transfer salmon to a baking sheet and top each piece with some sliced lemon and onion. Bake 12-15 minutes, or until cooked through.
8. To serve, place 1 cup of couscous on each plate, top with salmon and caramelized lemons and onions, and top with 1 tablespoon yogurt sauce.
Originally featured in Why the World Goes Hungry (And Hopefully Won't For Long)