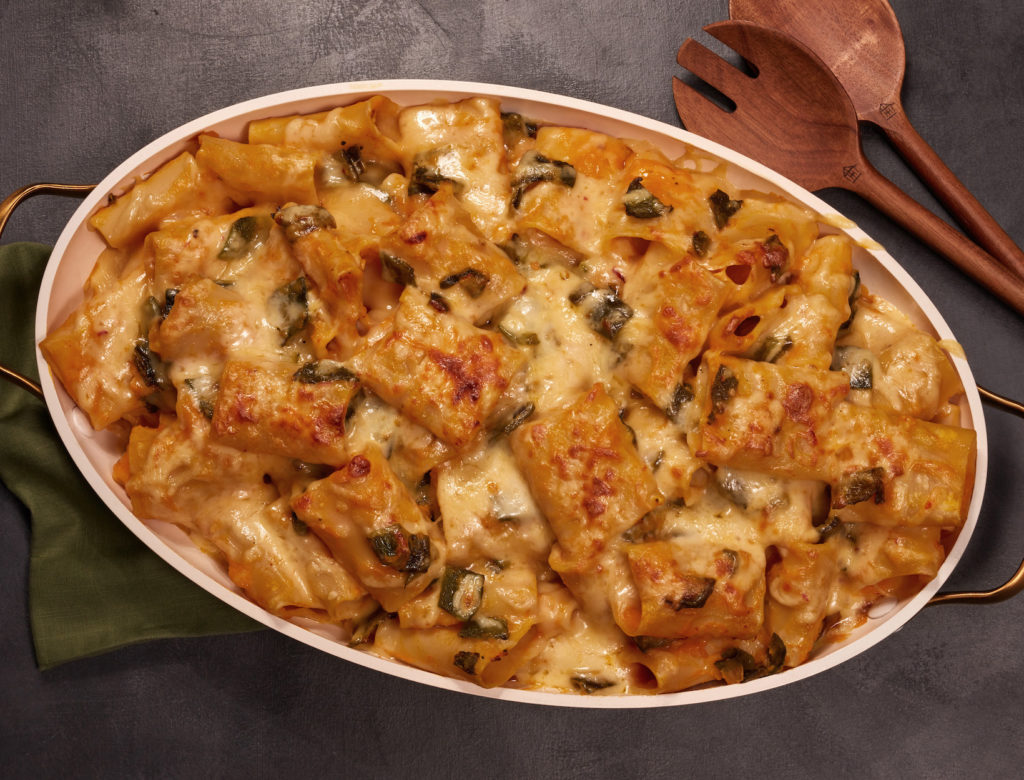 Smoky-Sweet Baked Pasta with Butternut Squash and Poblano Peppers
The classic combination of butternut squash and sage gets upgraded with chipotle and poblano peppers. The sweetness of the squash is offset by the heat of the peppers. And the sage subtly reminds you of the holidays.
1. Preheat the oven to 400°F. Drizzle the split squash with olive oil on the cut sides, season with a pinch of kosher salt, and place cut side down on a sheet pan. Toss the whole poblano peppers and quartered onions with a little olive oil and a pinch of salt and scatter them around the sheet pan as well. Gently crush the garlic cloves with the side of a chef's knife but leave the clove in the peel (this will allow it to cook without burning) and add it to the sheet pan. Roast in the oven for about 45 minutes to an hour, until the squash is fork-tender.
2. While the veggies cool, bring a large stockpot of water to a boil. Once it reaches a boil, add salt and the pasta. Cook the pasta al dente, about a minute or two less than the package directions. Before draining, reserve about 1½ cups of the starchy pasta water.
3. Peel and seed the poblanos. Cut them into bite-size pieces and set aside.
4. Scrape the cooked squash into a food processor or a powerful blender (you should have about 3 cups of cooked squash). Add the chipotle chili, the sage, the roasted onions and garlic cloves (peels removed), and about half the reserved pasta water. Blend until smooth, adding additional pasta water as necessary to get the right consistency—you want it to be almost like a marinara sauce.
5. Toss the cooked pasta with the sauce, chopped poblano peppers, and about half of each of the grated cheeses. Taste and season with salt if needed. Transfer to an oven-safe dish and top with the remaining cheese. Bake in the oven for about 20 minutes, and if you want an extra crispy topping, place it under the broiler for a minute or two before serving.
Originally featured in Vegetarian Dishes That Can Be the Main Event