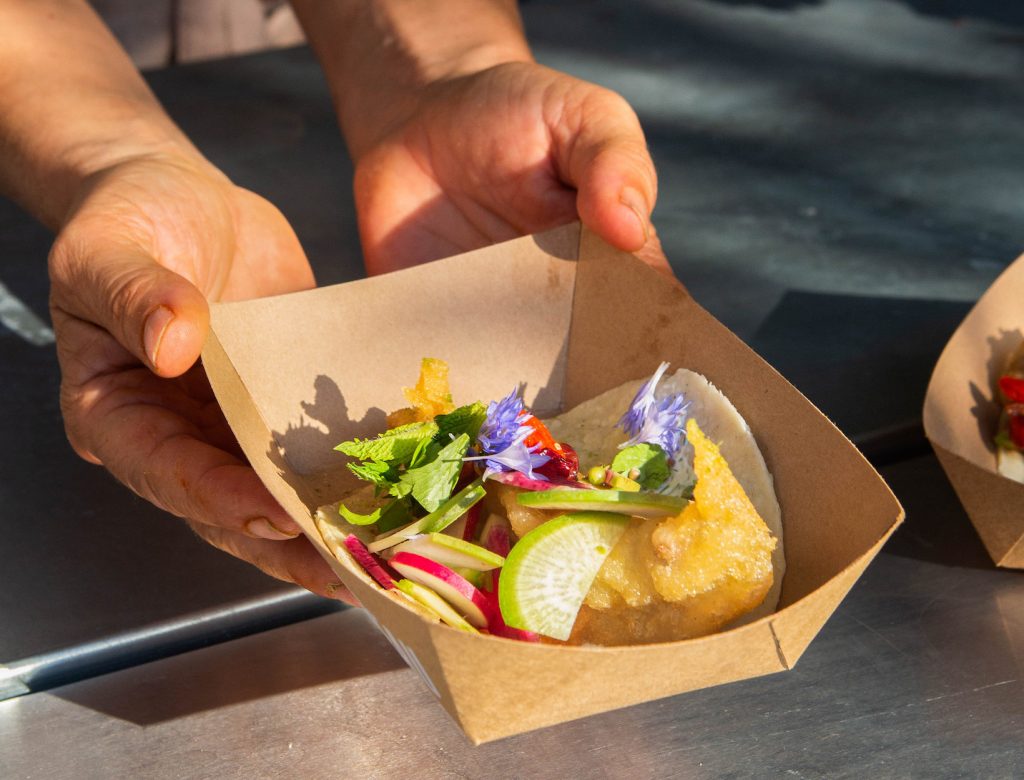 1. First make the batter. Combine ¾ cup arepa flour or rice flour, potato starch, baking powder, and water in a bowl. Add the water and whisk until smooth. Let sit for 30 minutes.
2. Next make the pickled barberries and goji berries. In a small pot, bring the water, vinegar and sugar to a simmer, stirring occasionally. Once the sugar is dissolved, pour the mixture over the barberries and goji berries in a small bowl. Cover and let sit so the fruit absorbs the brine.
3. Then prepare the yogurt. Simply mix the yogurt, chopped dill, chia seeds, and a pinch of salt together. Let this sit for about 30 minutes before serving, so the chia seeds are just softened a bit.
4. Fill a high-sided sauté pan with about ¾ to 1 inch of grape-seed oil. Set it over medium-high heat.
5. Once the batter has set for 30 minutes, get ready to bread and fry the fish. Fill a shallow bowl with 1 cup arepa flour or rice flour, and dredge each piece of fish. Then dip each piece in the batter and gently add to the hot oil. Let cook for about 2 minutes on each side until brown and crispy. Transfer the cooked pieces to a paper towel lined plate and sprinkle generously with salt while still warm.
6. To assemble the taco, start with a corn tortilla (warm it in dry frying a pan for a minute on each side). Add a dollop of yogurt, a couple pieces of fish, and a few pickled barberries and goji berries. Finish with thinly sliced radishes, a squeeze of lime, and chili oil, if desired.