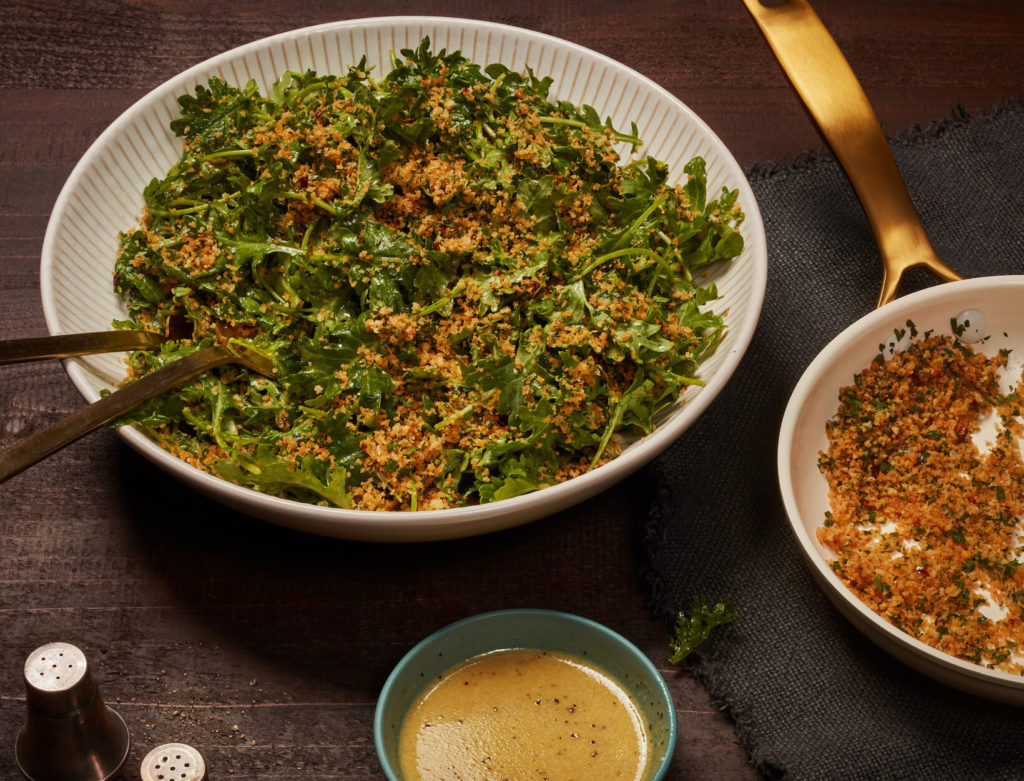 Baby Kale Salad with Lemony Bread Crumbs
These bread crumbs are like the crouton's sophisticated older cousin. They're a bit more subtle, but they deliver the most satisfying crunch in every bite. Plus, they take only a few minutes to make.
FOR THE BREAD CRUMBS:
2 tablespoon extra virgin olive oil
½ cup panko bread crumbs (gluten-free will work, too)
zest of ½ lemon
¼ teaspoon red pepper flakes
2 tablespoons finely chopped parsley (optional)
salt
FOR THE DRESSING:
½ clove garlic, grated
2 teaspoons lemon juice
1 tablespoon sherry vinegar
1 tablespoon vegenaise
1 tablespoon Dijon mustard
¼ cup extra virgin olive oil
kosher salt and freshly cracked black pepper to taste
TO ASSEMBLE:
5 ounces baby kale
1. First, toast the bread crumbs. Heat the olive oil over medium heat in a small nonstick pan. Add the bread crumbs and stir constantly until golden brown and crispy. Transfer from the pan to a bowl and add the lemon zest, red pepper flakes, parsley, and a generous pinch of salt. Toss well to combine and set aside to cool.
2. To make the dressing, combine the first 5 ingredients, then slowly whisk in the olive oil in a steady stream to emulsify. Season with kosher salt and freshly cracked black pepper to taste.
3. Assemble the salad. Toss the baby kale with the dressing and top with a generous sprinkle of the seasoned bread crumbs.
Originally featured in A Cozy Winter Dinner Menu