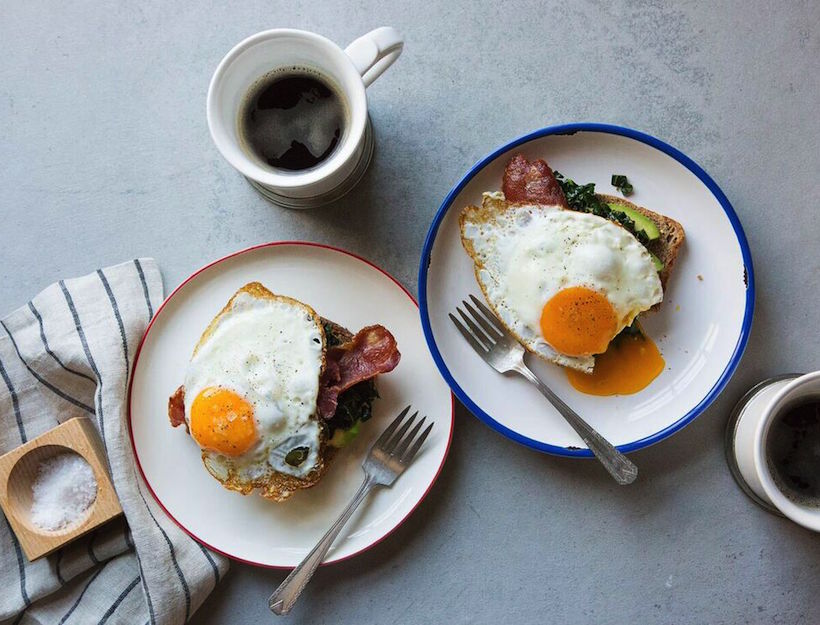 Avocado Toast with Kale, Turkey Bacon, and Fried Egg
This amped-up avocado toast with healthy fats, leafy greens, carbs, and protein is great for dinner—or for helping you get through a busy day.
1. Heat a large nonstick or cast-iron pan over medium-high heat. Add a splash of olive oil (about 1 tablespoon) and arrange the turkey bacon in the pan so that none of the pieces are overlapping. Cook until crispy (2 to 3 minutes per side), then remove to a paper-towel-lined plate.
2. Add the kale, garlic, chili, and salt to taste to the pan and sauté for about 2 minutes, or until kale is wilted and garlic is fragrant (adding more olive oil if necessary). Transfer to a bowl and keep warm while you fry the eggs.
3. Add 4 tablespoons of oil to the pan and turn the heat down to medium. Crack the eggs directly into the pan and season generously with salt and pepper. Continue cooking the eggs over medium heat for about 3 minutes, or until the white is set and slightly crispy around the edges but the yolk is still quite runny.
4. While the eggs cook, toast the bread, spread with vegenaise and top with avocado slices. Season the avocado with salt and pepper, then top with sautéed kale and turkey bacon. Top each piece with a fried egg and serve with hot sauce on the side (if you want).