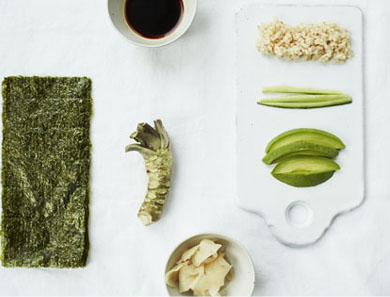 Avocado Temaki (Hand Roll)
Don't forget to vinegar the rice if you're making it yourself. Also, getting fresh wasabi to grate for the roll makes all the difference.
1. Place the nori on a bamboo mat or a piece or parchment shiny side down.
2. Wet one of your hands slightly to grab a small palmful of rice. Place the rice on the left side of your nori and press your index finger into the rice to create a small dent where you will lay your fillings.
3. Rub a bit of grated wasabi onto the rice. Place a few thin slices of cucumber and a few slices of avocado diagonally across the rice, pointing to the upper-right corner of the nori.
4. Fold the left hand corner over and roll upwards around the rice and the filling. (At this point it's best to pick up the roll and finish the rolling with your hands.) Continue rolling the long part of the nori around the rice and filling until you reach the end. Seal by rubbing the edge with a touch of water.
5. Serve with soy sauce or tamari and pickled ginger.
Originally featured in Superfoods