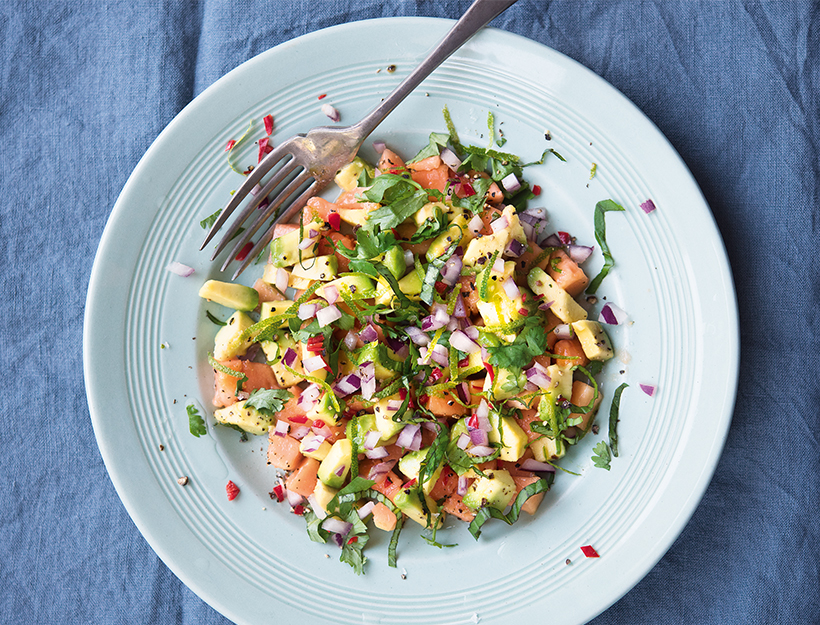 "This zesty salsa is delicious with chicken or white fish, but is just as lovely on its own—like summer on a plate. It is beautifully full of essential vitamins and antioxidants, which help to neutralize damaging free radicals often caused in the skin by UV radiation. UV damage can speed up the signs of skin aging, such as wrinkling, loss of elasticity, reduced thickness and collagen content, so making sure that you are eating a rainbow of colors in your meals every day will help to ensure that you get your optimal supply of skin-protecting antioxidants."
1. Peel and deseed the papaya and dice into small cubes. Do the same for the avocado. Finely dice the onion and red chili, and put everything into a serving bowl. Finely chop the herbs and add to the bowl, then add the lime zest and mix well.
2. Squeeze the lime and lemon juice into a jar, then add the salt and honey and mix well. Pour this dressing over the salsa, combine well, season with a good pinch of pepper and serve with white fish and chicken, or simply on its own.
Originally featured in London's Top Nutritionist on Eating for Beauty