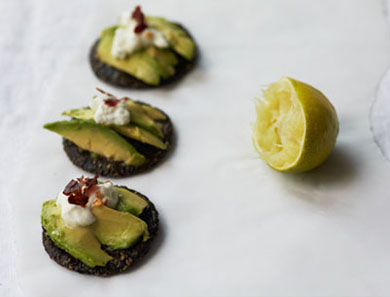 Super healthy avocado, with the right kind of fat and lots of fiber to fill you up, and yogurt, good for you in all sorts of ways, makes this a smart and delicious midday snack.
1. Place sliced avocado evenly on rice cracker, feeling free to muddle a bit to fit the shape of the cracker.
2. Squeeze lime juice into yogurt and place a dollop on top of the avocado.
3. Sprinkle with sea salt and as much dried red chili as you can handle.
Originally featured in Small Bites